The U.S. Department of Energy has released a new Snapshot report on LED outdoor area lighting. Based on DOE's LED Lighting Facts® database, the report focuses on outdoor area/roadway luminaires (including street lighting and wall packs), parking garage luminaires, and canopy luminaires (e.g., those used for gas station fuel pump areas). Retrofit kits and dedicated luminaires in these categories are not considered separately, as only in the area/roadway category did retrofit kits make up a notable percentage (8%) of the products listed in the category.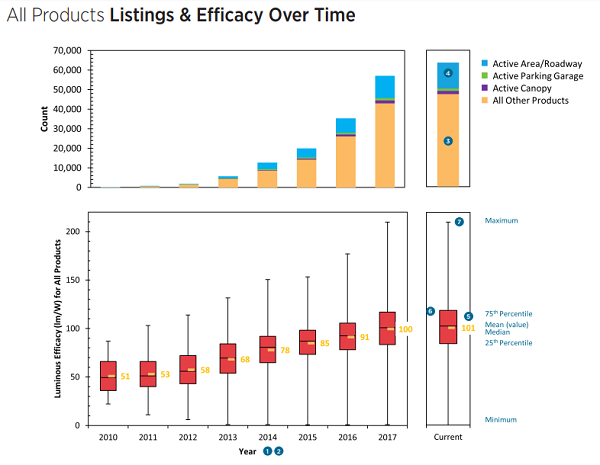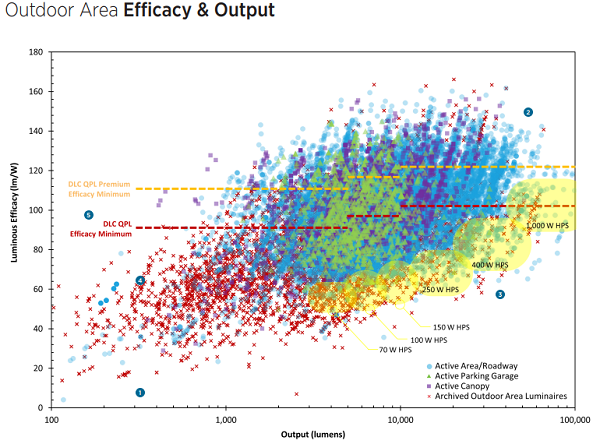 (Source: the US Department of Energy)
Among the key findings:
Outdoor area lighting remains a major component of the LED Lighting Facts database, and of the lighting market in general. Combined, the three types of outdoor area luminaires considered in the Snapshot make up about 26% of the database.

LED outdoor area lighting products are available in a wide range of outputs and color characteristics, allowing the specifier to match the needs of the project.

At any given output level up to the equivalent of 1,000 W HPS (about 100,000 lumens delivered), LED products are available with substantially higher efficacy than that of their conventional counterparts.

There is a wide range in efficacy for LED outdoor area lighting products.
To view the full version of the report, visit here.