The first Micro LED product is Crystal LED Display that Sony showcased at CES 2012. Outwardly similar to a regular TV, it was an ultimate combination of the most state-of-the-art technologies back then. However, Sony, after its first success, had gone silent for quite a while until 2016.
Sony in 2016 launched the wall of connectable LED panels Crystal LED Integrated System (CLEDIS), of which the mass production was alleged to start in 2017. The industry is yet to be bold enough to promise the commercialization of Micro LED as they know well those unresolved challenges.
Given the fact that the cost of the OLED display sported on Apple's iPhone X amounts at around USD 80 (pretty high to be fair), LEDinside reckons we can cross off the list that the cost of Micro LED is a major factor hindering its development. Besides, Micro LED outreaches OLED in several respects.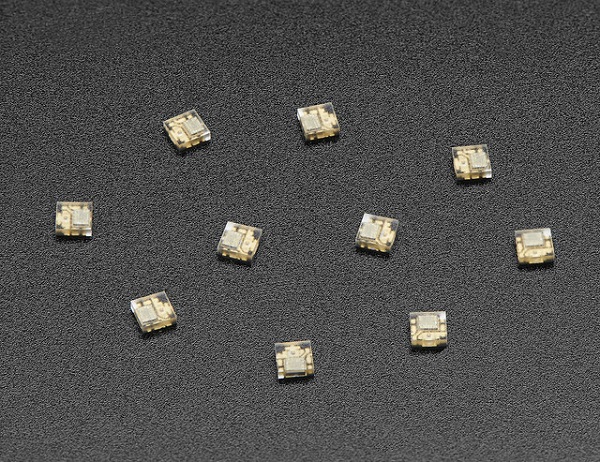 (Image: Micro LED Adafruit Industries via Flickr CC2.0)
Quick Cost Analysis
According to the iPhone X bill of materials (BOM), the cost of the 5.8 inch AMOLED display supplied by Samsung amounts at around USD 80. LEDinside also did some quick math. A 5-inch Micro LED display is priced at about USD 100; likewise, a 5.8-inch one is about USD 110-120.
That is the reference price suggested by insiders. The gap between the cost of Micro LED and that of OLED isn't too wide even though Micro LED is indeed expensive as it seems. The number is believed to be down a bit more once the industry overcomes the technological difficulties during the manufacture.
A few years ago when Sony first launched Micro LED based TV, it was considered a 'black technology product' that ignited widespread interest. Whereas, it didn't reach the stage of commercialization in the biggest part due to the production cost. Now that it is known the estimated cost of Micro LED is not too much away from the cost of OLED which the public seems to accept, that gives a hint that, perhaps, in the end market Micro LED with a cost like that would still earn slightly more reception as expected.
Apple has been actively developing Micro LED technology. The cost of its self-developed Micro LED display is reasonably anticipated to be even closer to that of Samsung's OLED screen. As OLED is one major source of Samsung's revenue, the OLED giant would prevent competitions with the iPhone maker by limiting the latter's OLED development. Then, it makes even more sense for Apple to expedite the commercialization of its Micro LED products.
Of course, all that will be after they resolve problems in the processes such as the mass transfer, color conversion, or testing and repair, but at least it proves cost might not affect that much as we thought in terms of market reception.
Quick Industry Analysis
Micro LED started gaining attention from 2014 when Apple acquired LuxVue and also when the LED market turned into a crowded red ocean. Taiwanese LED manufacturers were almost squeezed out by Chinese rivals. Micro LED to them was a silver lining. Many of them, together with some overseas electronics goliaths, thus buckled down to the R&D.
Other monumental announcements include: 1) Facebook's Oculus bought InifiLED, 2) KDX funded Ostendo with an amount of USD 35 million, 3) Foxconn-Sharp invested in eLux, and 4) Google forked out USD 15 million to support Swedish-American company Glo's Micro LED technology.
With more and more companies joining in, the supply chain is slowly scaling up. Judging by the distribution of participants in each chain section, chip suppliers take up the largest proportion, followed by end applications makers. The former group is formed by Epistar, Lextar, San'an Opto, Osram, Nichia, and Cree; and the latter by some big names including Apple, Sony, Google, and Facebook.
There are also some other mentions such as mLED spun off from the University of Strathclyde, TexasTech University, CEA-Leti, and X-Celeprint from the University of Illinois.
In Taiwan, semiconductor engineering startup PlayNitride, ITRI, AUO, Innolux, and Epistar also play a part in the developing squad. As for China across the strait, it sees KDX invests in the Micro LED chip development for VR devices of Ostendo. CSOT, CEC, and BOE, on the other, is still evaluating the feasibility to start related projects.
Either way, Micro LED is certainly on its way to eventually being commercialized. Before the official introduction of a new technology is a period of preparation time, during which we can already see transition technology Mini LED ready to hit the market.