Delivering LED industry transformation for over 15 years, Bridgelux is taking bold new steps to address customer requests for human centric lighting and connectivity for the Internet of Things (IoT) by expanding its industry presence and product portfolio.
Keeping the benefits of delivering dynamic lighting at the right place, at the right time and for the right user in mind, Bridgelux will offer a new Dual Channel Driver. The Dual Channel Driver enables control of color temperature (CCT) tunable lighting and lumen intensity to meet the varying needs of living environments without sacrificing quality of light. The Dual Channel Driver is ideal for the troffer market and integrates seamlessly with the Bridgelux Vesta® Series Tunable White Linear products.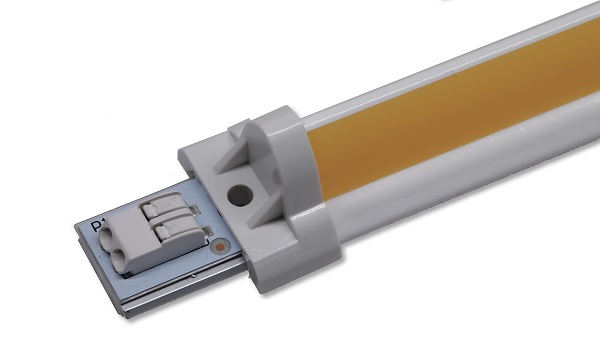 (Image: Bridgelux)
As part of the commitment to help customers future proof their lighting solutions by using open standards, Bridgelux has joined the IoT-Ready Alliance™, an industry organization working to identify standards for IoT-enabled light fixtures. "The IoT-Ready Alliance is building a powerful industry standard to address this paradigm shift towards end-to-end solutions within a connected ecosystem. We are excited to be part of this next phase of lighting," said Tim Lester, Bridgelux Chief Executive Officer.
Bridgelux takes the IoT concept of connectivity to the next level by integrating high quality of light with connectivity to create beautiful and intelligently connected environments with its IB Series™ linear product family. IB Series uses remote phosphor architecture in its line of products ranging in length from 9.5 to 43 inches and offering a 240 degree wide beam pattern to provide uniform, glare-free lighting. IB Series products eliminate pixilation and improve optical fill, enabling the use of fewer modules per luminaire.
"Bridgelux is known for quality of light, and that is something we will never compromise as we develop and build solutions for our customers' increasingly dynamic and connected environments," said Dr. Brian Cumpston, Vice President of Product Development at Bridgelux. "Customers will be able to use the most ubiquitous infrastructure in the world to simultaneously deliver quality and connectivity."