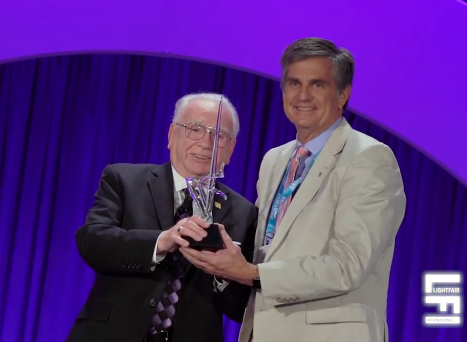 (Image: LumEfficient)
LumEfficient received an Innovation Award at this year's LIGHTFAIR, held May 8-10th. The LFI Innovation Awards, judged by an independent panel of esteemed lighting professionals, recognize distininnovations from more than 500 of the world's leading manufacturers across the lighting industry.
LiFi uses light to transmit Internet signals instead of slower, more vulnerable radio signals used by standard WiFi. The light is simple in that it uses Power-over-Ethernet (POE) to provide the light as well as the Internet connection. The Internet is transmitted using beams of light from the LiFi-enabled LED light fixture to the laptop or tablet. LiFi technology allows the deployment of a full wireless network offering high-speed mobile connectivity while supporting multiple light fixtures that act as access points.
Randy Reid, President of LumEfficient, said, "We are deeply honored that LumEfficient won at LIGHTFAIR, the largest, most prestigious lighting show in North America."
LiFi has been deployed in beta sites at locations in France in HIGHSEC areas where standard Wi-Fi is too risky. LumEfficient is presently looking for similar beta sites in the U.S.