According to LEDinside's latest report- 2019 Deep UV LED Application Market- Sterilization, Purification, and Water Treatment Markets, due to global recession, UV LED manufacturers' revenue in 2018 failed to grow as expected, but the increase was stable. In terms of the demand market outlook, the curing market will grow steadily and the major growth momentum will be surface / air sterilization, static water sterilization and flowing water sterilization. UV LED market value in 2023 is expected to reach USD 991 million.
According to LEDinside Research Manager Joanne Wu, in 2017, the top five UV LED manufacturers were Seoul Viosys, LG Innotek, Nitride Semiconductors, Nichia and Epitop. In 2018, Japanese and Korean manufacturers actively developed UV LED market. The revenue rankings are listed below in sequence: Nitride Semiconductors, Seoul Viosys, LG Innotek, Nichia and Epitop. Currently, the average EQE of UV-C LED is 1-4%. LG Innotek is the leader on the UV-C market, with EQE of 4.33%. Yet, Stanley, DOWA, Nitride Semiconductors and Seoul Viosys continue to increase product efficiency.
| | |
| --- | --- |
| 2017 | 2018 |
| Seoul Viosys | Nitride Semiconductors |
| LG Innotek | Seoul Viosys |
| Nitride Semiconductors | LG Innotek |
| Nichia | Nichia |
| Epitop 圓融 | Epitop 圓融 |
According to LEDinside, in 2019, there will be more LED manufacturers actively developing UV-C LED products, including Nichia, OSRAM OS, UVphotonics and Violumas.

Three Growth Drivers in UV-C LED Application Market: Surface Sterilization, Static Water Sterilization, and Flowing Water Sterilization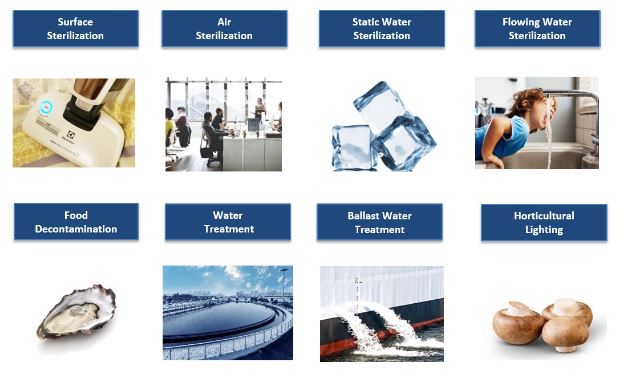 Static water sterilization and surface sterilization (air purification, home appliances, etc.) has low requirement on exposure time, and the demand side adopts UV LED products to achieve added value. The market application is quite wide and there are many emerging markets created, including baby products, mobile phones, escalators, and household products such as toothbrushes, toilets, cupboards, sports water bottle and thermos flasks.
Furthermore, flowing Water Sterilization requires fast purifying time. The market has higher requirement in product's power rate.
LEDinisde analyzed household water purification market includes water dispenser, hot & cold water dispensers, whole house water filter system and baby formula maker.
As of commercial and industrial market field, the global water treatment market scale is around USD 20 billion and market growth is mainly driven by water scarcity and sustainability of water resources. Water treatment application markets cover Aquaculture, Commercial Building, Food Beverage Industry, Pools and Leisure, Life Sciences Pharma & Biopharma, Municipal Water & Waste Water, Oil & Gas. Majorly, there are three methods for water purification and sterilization, including Gravity / Filter Purifier, RO Purifier and UV Purifier. reverse osmosis is the market mainstream, but combining UV purifying method to do disinfection and sterilization, as well as degrade TOC. Water Treatment becomes the most potential market for UV-C LED.
In response to water treatment market demand, Japanese and Korean makers aggressively move to high power LED market development to enter flowing water module application. In the future, the UV-C LED market will move toward polarization: some manufacturers will enter the general consumer market, while others will enter the high-end commercial/industrial market.
LEDinside focuses on eight major applications and 16-20 products market trend to providing readers with an overall understanding towards the deep UV LED market.
2019 Deep UV LED Application Market- Sterilization, Purification, and Water Treatment Markets
Release Date: 10 April 2019
Format: PDF
Languages: English
Pages: 169
Chapter I. UV LED Market Scale and Application Trend
Wavelength and Application Market Analysis
UV Wavelength and Application Analysis
UV Market Application and Irradiance Analysis
2019-2023 UV LED Market Scale
2019-2023 UV LED Demand Market Volume
2019-2023 UV-C LED Demand Market Volume- By Optical Power
2019-2023 UV LED Market Scale- By Application
2014-2019 UV LED Price Survey and Future Price Drop Forecast
2018-2022 UV-C LED Price Trend
Deep UV LED Market Development Key Factors
Chapter II. Deep UV LED Market Technology
Deep UV LED Product Specifications and System Requirements
UV-B LED Product Technology Analysis- Epitaxy
UV-B LED Product Technology Analysis- Epitaxy and Chip
UV-B LED Application Market and Irradiance Intensity Requirement Analysis
UV-C LED Product Technical Threshold Analysis
UV-C LED Product Technology Analysis- Substrate
UV-C LED Product Technology Analysis- MOCVD
UV-C LED Product Technology Analysis- Epitaxy
UV-C LED Product Technology Analysis- Chip
UV-C LED Product Technology Analysis- Three Major Chip Technologies Analysis
UV-C LED Product Technology Analysis- Four Package Designs
UV-C LED Player Supply Chain and Product Analysis
Chapter III. Deep UV LED Market Application Trend
Deep UV Application Market Overview
UV-C Disinfection Principles
UV Sterilization Application Range
Common Nuisances Treated With UV Disinfection
UV-C LED and Mercury Lamp Product Analysis
Key Factors Affecting UV-C LED Sterilization Effect
Lethal Dose of UV-C on Various Bacteria and Viruses
UV-C LED Market Application and Irradiance Requirement
2018-2020 UV-C LED Market Demand Analysis
UV-C LED Long-Term Target Market Potential Analysis
The EU Issues Regulation (EU) 2017/852 Mercury Rule to Implement the Minamata Convention on Mercury
3.1 Surface Sterilizing Application Market
3.2 Air Sterilizing and Purification Application Market
3.3 Static Water Sterilization Application Market
3.4 Flowing Water Sterilization Market and Module Design Requirement
3.5 Food Decontamination Market
3.6 Water Treatment Market
3.7 Ballast Water Treatment Market
3.8 Horticultural Lighting and Gas Sensing Market
Chapter IV. UV LED Player Revenue and Business Strategy Analysis
2017-2018 UV LED Player Revenue Ranking
UV-A LED Major Players and Business Strategy Analysis
2017-2018 UV-A LED Player Revenue Ranking
UV-A LED Player Revenue Performance and Development
UV-A LED Manufacturers' Chip Power and Efficiency Analysis
UV-C LED Major Players and Business Model Analysis
2017-2018 UV-C LED Player Revenue Ranking
UV-C LED Player Revenue Performance and Development
UV-C LED Player Supply Chain and Product Analysis
UV-C LED Product Wavelength and Optical Power Analysis
UV-C LED Product Wavelength and EQE Analysis
Major 16 UV LED Player Revenue and Business Strategy Analysis
2016-2018 UV LED Patent Litigation
Nitride Semiconductors UV LED Patent
LG Innotek UV LED Patent
Further information, please contact: