Rumors about when Apple will start adopting Micro LED in its products have been going on since it acquired Micro LED startup LuxVue in 2014. Many believed that Apple Watch would be the first Apple product using Micro LED display featuring its high brightness and low power consumption. However, it is also likely that the technology will be seen in augmented reality (AR) devices based on Apple's recent plans.


Reuters reported that Apple has teamed up with German software developer SAP to help business develop applications based on Apple's machine-learning technology. The two companies will focus on increasing AR adoption for business applications such as stocking store shelves or repairing machinery. Many also expect that Apple will unveil updated ARkit on the Worldwide Developers Conference taking place in June.

Apart from software development, Apple has reportedly worked on technologies for AR devices as well. The company has been granted several new patents related to Micro LED display since 2018. One of the patents was titled "Display with Holographic Angle-of-View Adjustment Structure," which is believed to be associated with AR glasses development. Moreover, Apple has acquired an AR lenses startup Akonia Holographics and German AR specialist Mataio for strengthening its AR devices development expertise.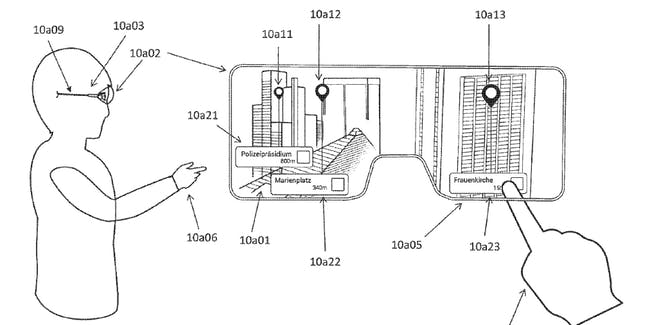 (Image: the United States Patent and Trademark Office)
Several Micro LED developers have also released their progress in AR/VR applications. Canada's VueReal reported that it has achieved yield necessary for mass production with its high resolution Micro LED display. The 30,000 ppi Micro LED display with 100,000s nit would boost resolution for AR and VR devices, said the company. UK's Plessey also announced its long term supply agreement with Vuzix, an AR smart glasses supplier. Both VueReal and Plessey are going to demonstrate their Micro LED display products at Display Week 2019.

Integrating Apple's software advances and technology progress in Micro LED display, we might be able to see innovative AR devices adopting Micro LED technology launched by Apple soon. The company was said to produce AR headset by 2019 and launch the product in 2020.

Related reading:
Apple Might Begin AR Glasses Production Soon with Its New Granted Patent
Apple Works on Micro LED Displays with Integrated Holographic Technology