Evatec has secured a follow up order for delivery of multiple fully automated thin film production tools at Taiwanese Micro LED specialist PlayNitride.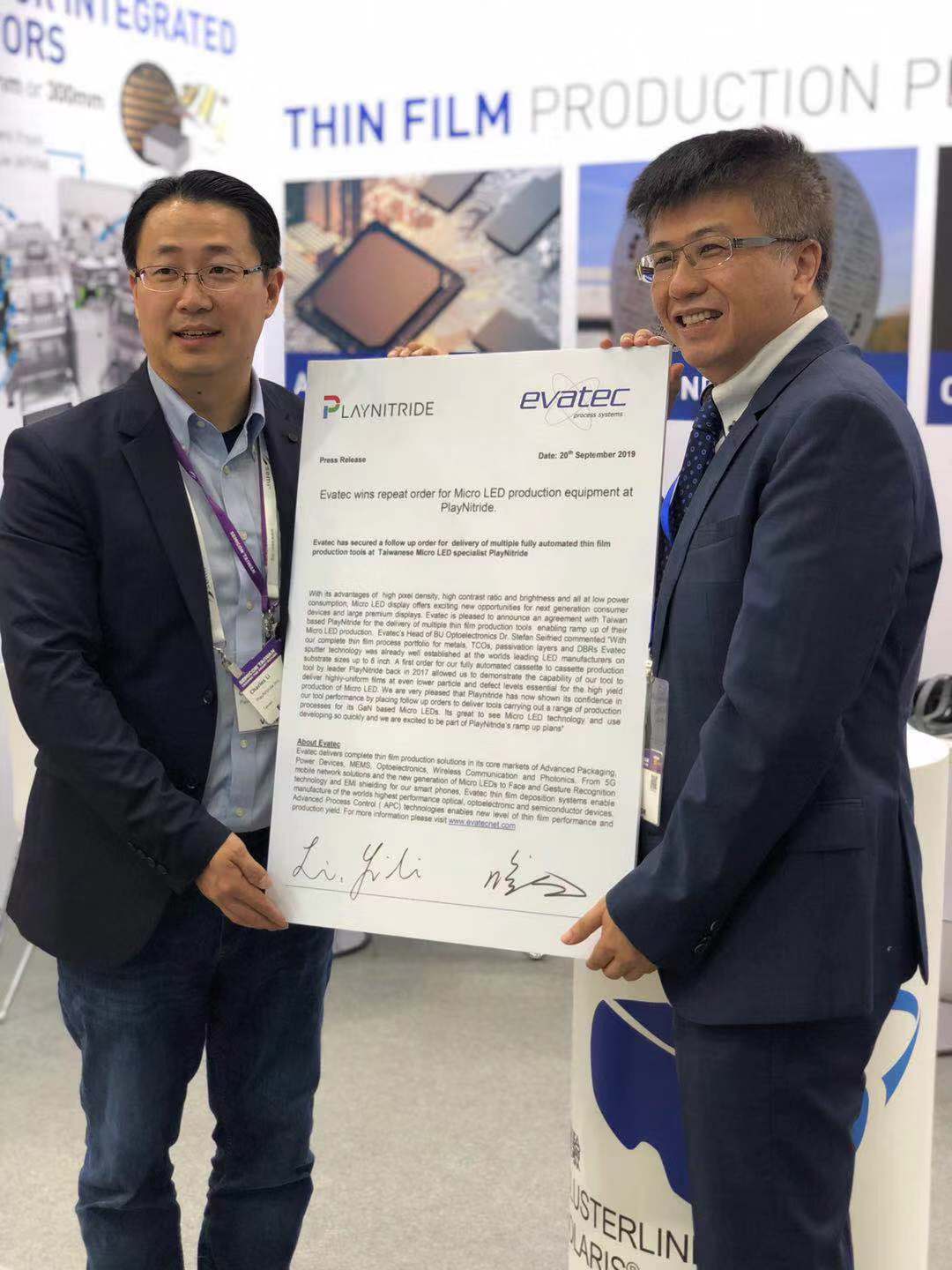 (Image: Evatec/PlayNitride)
With its advantages of high pixel density, high contrast ratio and brightness and all at low power consumption, Micro LED display offers exciting new opportunities for next generation consumer devices and large premium displays. Evatec is pleased to announce an agreement with Taiwan based PlayNitride for the delivery of multiple thin film production tools enabling ramp up of their Micro LED production.
Evatec's Head of BU Optoelectronics Dr. Stefan Seifried commented "With our complete thin film process portfolio for metals, TCOs, passivation layers and DBRs Evatec sputter technology was already well established at the worlds leading LED manufacturers on substrate sizes up to 8 inch. A first order for our fully automated cassette to cassette production tool by leader PlayNitride back in 2017 allowed us to demonstrate the capability of our tool to deliver highly-uniform films at even lower particle and defect levels essential for the high yield production of Micro LED. We are very pleased that Playnitride has now shown its confidence in our tool performance by placing follow up orders to deliver tools carrying out a range of production processes for its GaN based Micro LEDs. Its great to see Micro LED technology and use developing so quickly and we are excited to be part of PlayNitride's ramp up plans"
About Evatec
Evatec delivers complete thin film production solutions in its core markets of Advanced Packaging, Power Devices, MEMS, Optoelectronics, Wireless Communication and Photonics. From 5G mobile network solutions and the new generation of Micro LEDs to Face and Gesture Recognition technology and EMI shielding for our smart phones, Evatec thin film deposition systems enable manufacture of the worlds highest performance optical, optoelectronic and semiconductor devices. Advanced Process Control ( APC) technologies enables new level of thin film performance and production yield. For more information please visit www.evatecnet.com