Samsung announced that it has helped the Golden State Warriors tip off the 2019-20 NBA season with a partnership that is revitalizing sports venues. Samsung Electronics America has installed more than 64 LED video displays including the largest centerhung video display at Chase Center to offer audience unique game experiences.


Samsung LED technologies showcase a detailed and realistic picture, ensuring each fan is immersed in the action every seat. The new Warriors centerhung main videoboard adds up to a massive 9,699 square feet (900 square meters) of active video display, making it the largest LED video display centerhung installed in a sports arena. The centerhung integrates 15 displays varying from 6.7mm pixel pitch on the main displays and upper halo ring, to 4mm pixel pitch on the underbelly displays, amassing a total of more than 26.3 million individual LEDs.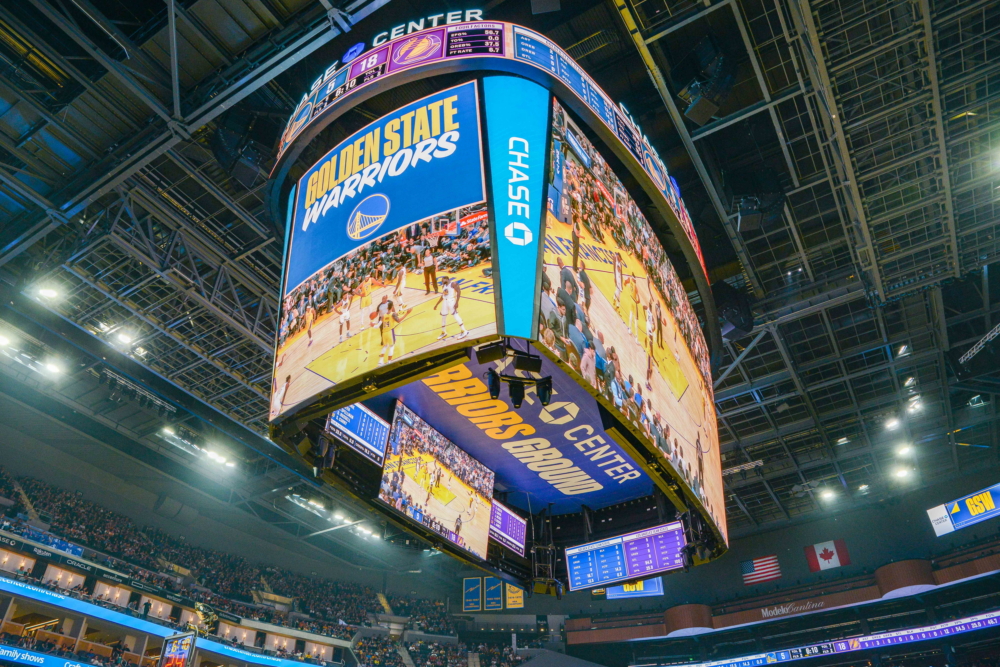 (Image: Samsung)
Don Szczepaniak, CEO of PRISMVIEW, A Samsung Electronics Company, highlighted the challenge of the LED display installation, "A project of this size and scope doesn't happen overnight. It took years of planning and working side-by-side with the Warriors organization to ensure that the centerhung structure and LED video displays met all of the weight and engineering requirements to deliver an amazing experience."

Samsung and the Warriors also stepped outside the arena to install full outdoor LED display in San Francisco. Fastened to the outer wall of Chase Center's west entrance, the vibrant display provides a preview of the technology that can be experienced inside.

In addition to the ground-breaking centerhung and outdoor LED displays, Samsung LED technologies can be found throughout the venue, adding up to a noteworthy 53.6 million individual LED pixels.