Global warming has drawn enormous attention to green energy and DC house application. Many countries have started to promote energy-saving and safer electricity usage. MEAN WELL develops direct current (DC) input LED drive power supply, the LDH-25/65 series for green energy LED lighting applications, including LED solar street lights or equipment with secondary battery applications, such as camping car/yacht applications. LDH-25/65 series provide customers options for reducing conversion losses between DC bus to DC/DC driver.

LDH-25/65W which are designed as step up mode DC/DC LED driver that can be used with a secondary battery bus. It is suitable to operate with DC 12v or 24V Battery then boost output voltage for LED board, including 0-10V/PWM dimming function. It can be applied with a regular wall dimmer or wireless dimming controller. Each series can offer different output current, such as LDH-25 with 250/350/500/700 mA and LDH-65 with 700/1050/1400/1750 mA output current. Those output current spec is for most of solar lighting or interior lighting applications.
MEAN WELL DC/DC Step Up LED Power Supply: LDH Family

LDH series offers two different connecting styles, PIN output design and lead wire design. A CE certification based on EN61347/EAC TP TC 004 and EN55015 /EN61547/EAC TP TC 020 regulations, which are suitable for lighting luminaire is acquired. Besides, step down LED power supply, NLDD-H/LDD-L/H series, is also provided for 48V DC bus system.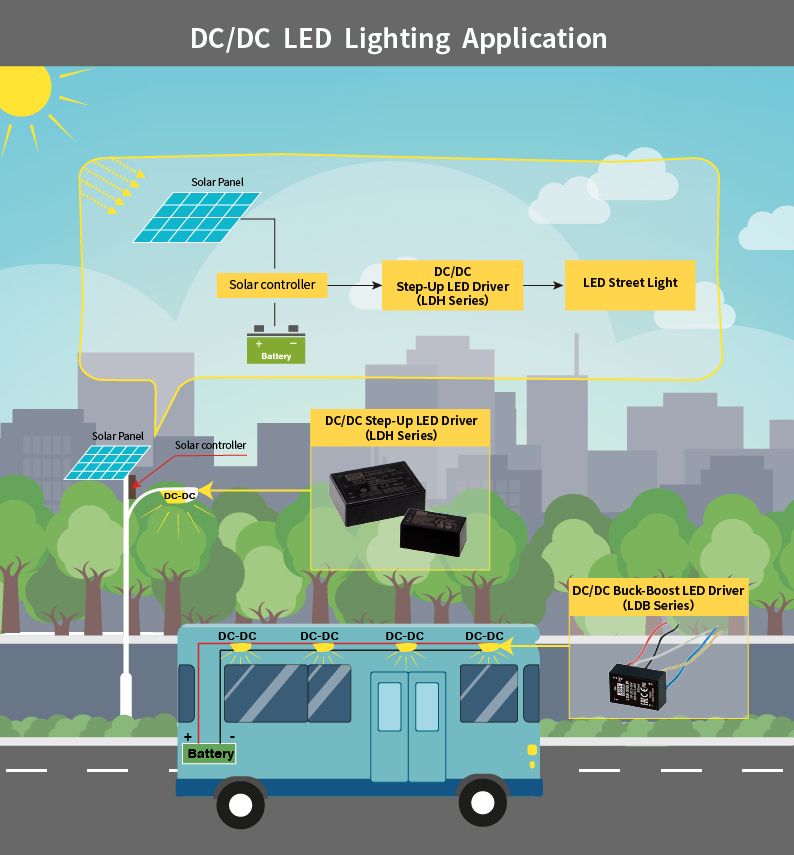 Features:
• Wide DC input Voltage operation 9.5~32 V DC
• Constant current output design
• Wide output forward voltage design
• High efficiency up to 96%
• 2 in 1 dimming with 0~10/PWM
• Protections: Over Voltage/ Short circuit
• Fully escapsulated
• 3 years warranty