With a focus on the emerging Micro LED and Mini LED display markets, GE unveiled its advances with narrow-band red (PFS-KSF) and green phosphors that will accelerate their integration into these next generation display applications. These advances were highlighted during a keynote presentation by Dr. James Murphy during the SID Virtual Display Week Business Conference.


GE demonstrated the new inkjet-printed red phosphor on a plastic substrate which that illustrates advances toward printing phosphors for Micro- and Mini- LED displays.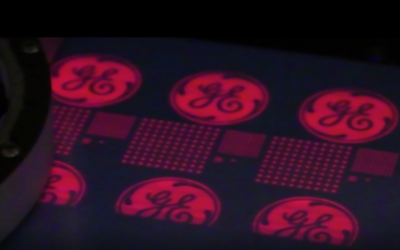 (Image: GE)
"GE's Research Lab has been innovating in 3D printing technologies, including direct write, or inkjet-printing technologies, for several decades," Dr. Murphy said. "We have experienced a color revolution in liquid crystal displays over the past five years driven by narrow-band phosphor innovation and developments. These latest breakthroughs will have GE well-positioned to drive that next color revolution for micro and mini-LEDs displays," he added.

As of today, there have been nearly 40 billion PFS-KSF containing LEDs sold into commercial displays. While LEDs are expected to continue to dominate in the near-term, the Micro and Mini LED markets are rapidly growing.

Dr. Murphy explained that most major name brands of consumer electronics, in virtually every type of Liquid Crystal Display (LCD) application, including smart phones, tablets, laptops/computer monitors, and televisions, contain PFS/KSF. During his presentation, he highlighted other major advances on the PFS/KSF platform that support more immediate display market needs, including: Improved resistance to water/humidity; smaller particle size; and improved formulation for incorporation into both on-chip and remote configurations. These advancements will provide a more cost-effective path toward wide color gamut LCD displays that are more immersive and richer in color.