Nichia, the Japan-based leading LED manufacturer, has been dedicated to innovation of LED technology for a wide range of applications. LEDinside had an opportunity to interview Yoshihiko Naito, Deputy General Manager of Nichia's Hong Kong subsidiary to learn more about the upgraded technology progress of Nichia in UVC LED.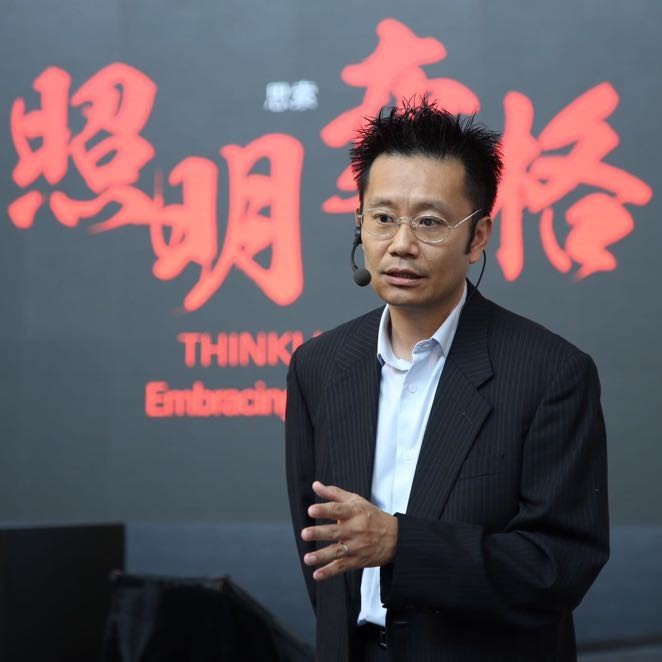 (Yoshihiko Naito, Deputy General Manager of Nichia's Hong Kong subsidiary; image: Nichia)
Naito indicated that the wavelength of mercury lamp is concentrated at 254nm, but it will only produce up to 70% UVC. However, UVC LED is designed for a single wavelength emission, which produces 100% UVC without wasting power intensity.

Nichia has successfully proposed 280nm 55mW UVC LED in the market in 2019. Regarding product development, if the wavelength of a LED is less 280nm, the efficiency sufficiently would drop by 50%. The shorter the wavelength of UVC LED is, the more difficult it is to provide high power products. Therefore, Nichia focuses on 280nm UVC LED development and enhances the optical power.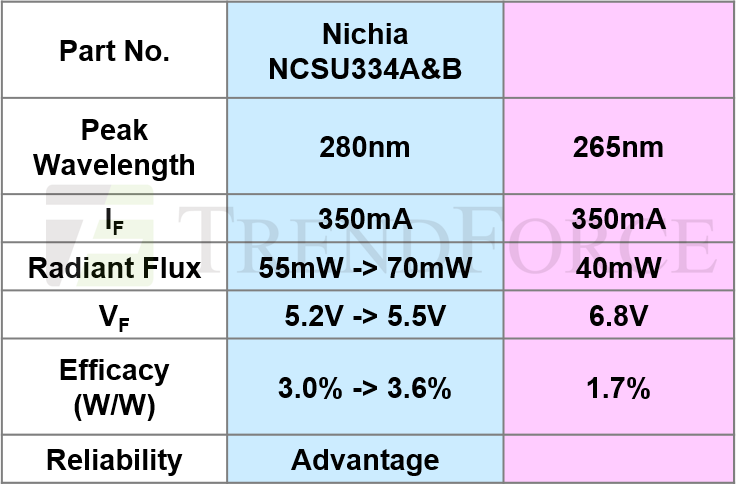 The value in right is based on a specification and adjusted to be the same conditions.
Nichia's NVSU334A, a 280nm UVC LED, can maintain 92% of efficiency after using 5,000 hours while the 265nm decreases to 67% at the same point.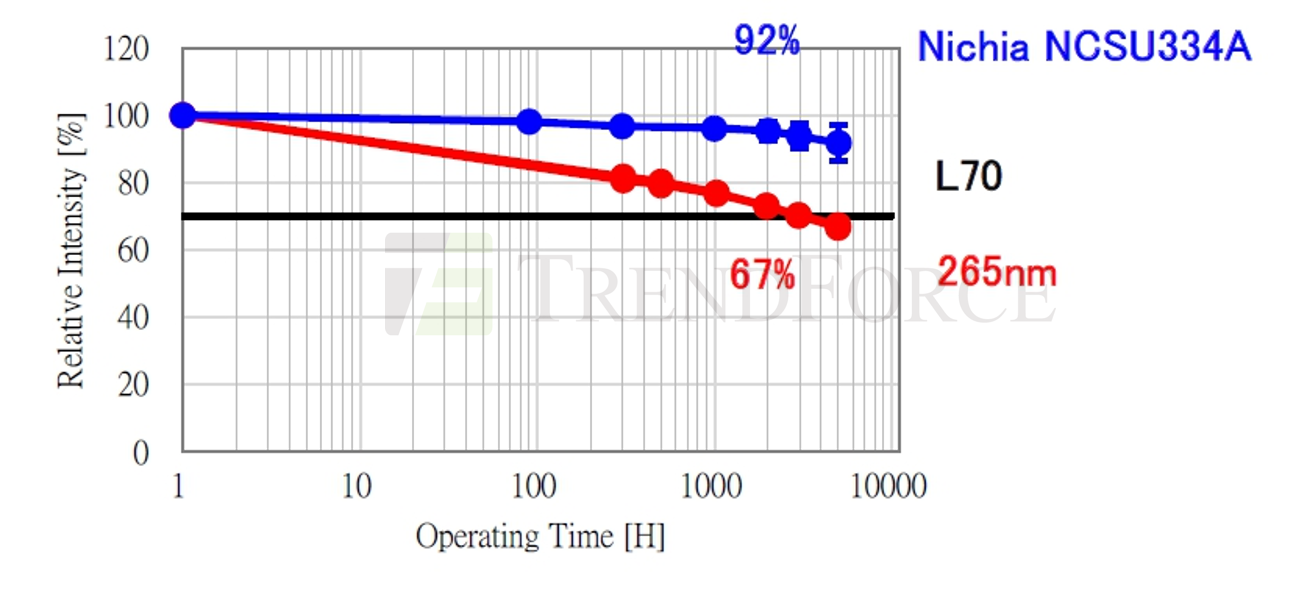 According to the results of disinfection test, the disinfection level was confirmed to be 99.9% for E. coli in the evaluation within 14 seconds of irradiation with fixed working distance of 50 mm using Nichia's 280nm 59mW UVC LED.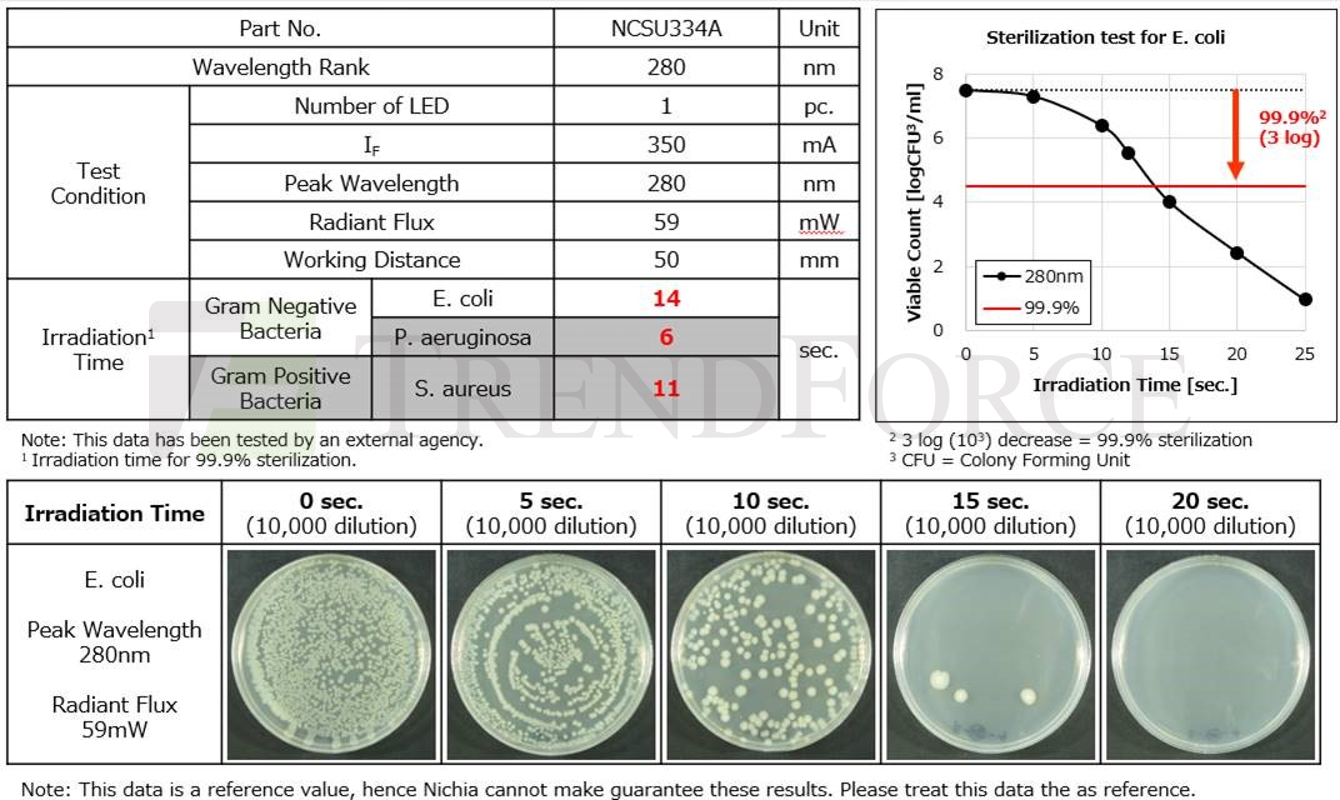 Nichia has successfully launched 280nm 70mW UVC LED in September 2020 with an external quantum efficiency of 3.6%. The estimated time to achieve the disinfection level of 99.9% for E. coli is only 12 seconds under the same conditions above.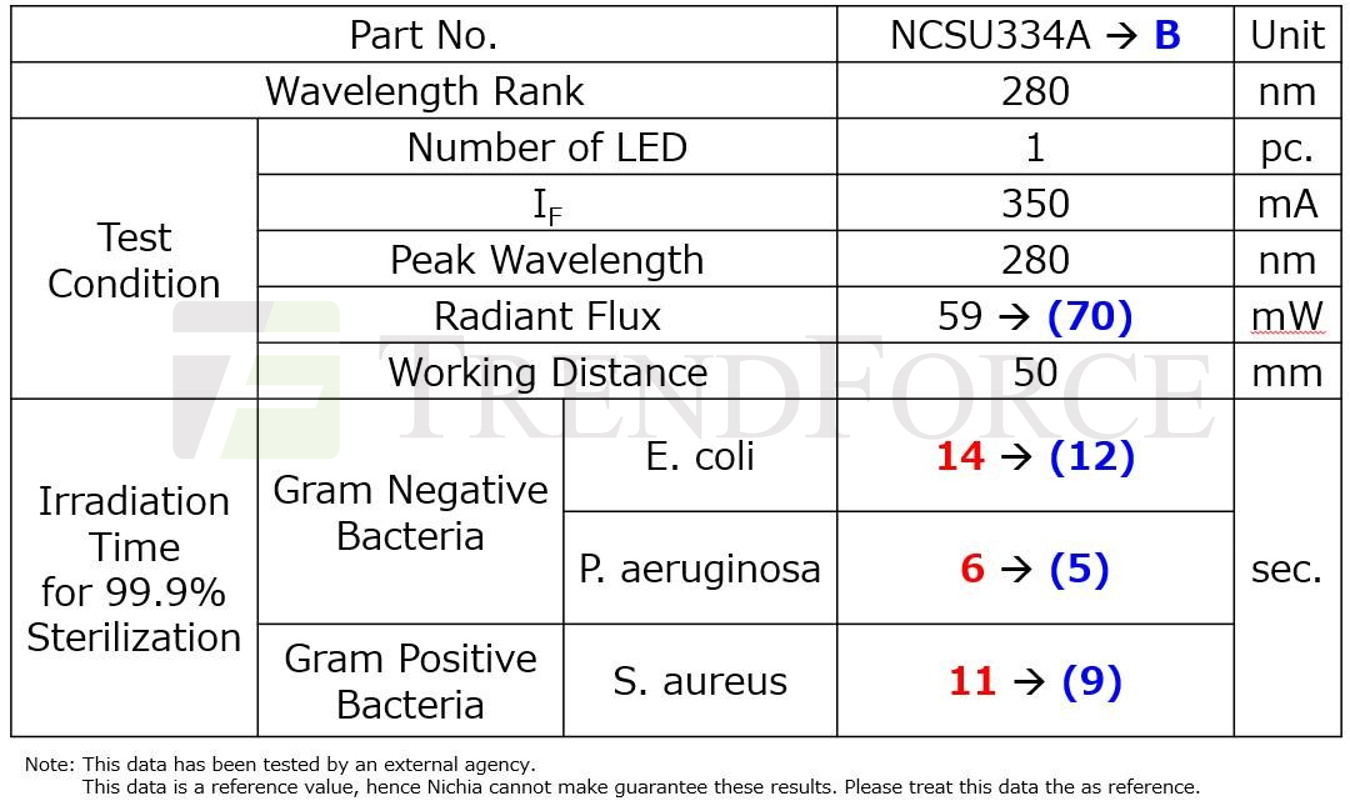 Nichia announced that the company has developed 280nm 100mW (500mA) UV-C LED product in the end of December 2020, with high reliability and lifetime. 280nm 100mW UV-C LED can maintain 70% of efficiency after using 10,000 hours.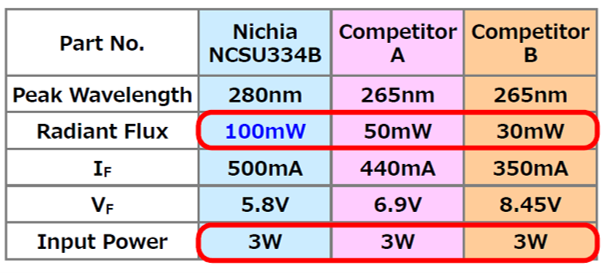 In addition, Nichia plans to launch 3535 LED 20mW products (100mA) in early 2021. Nichia will continuously increase the output of UVC LED and expand its UVC portfolio in the near future.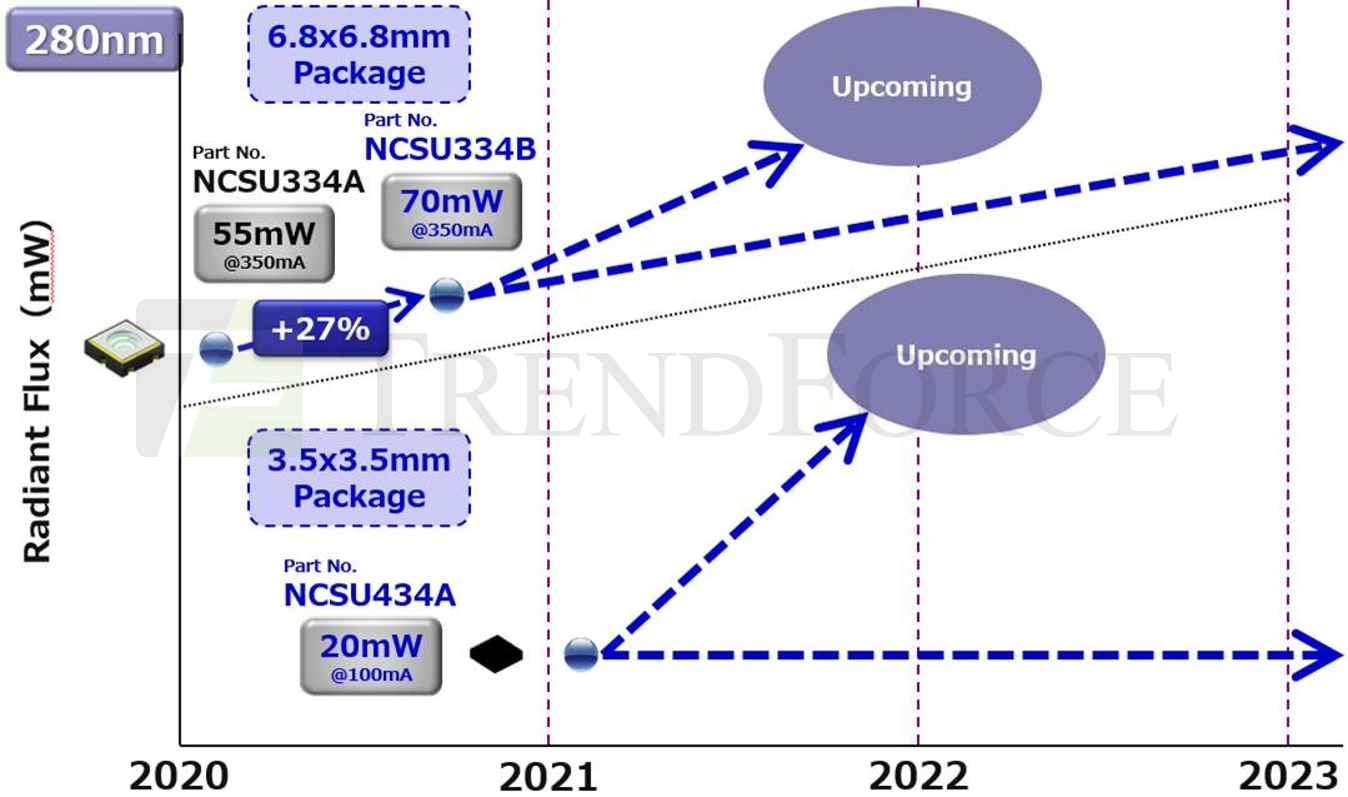 Regarding Nichia's UVC LED market strategies, Naito indicated that the target markets of sterilization include water disinfection and general lighting applications. Nichia believes that UVC LED products will ultimately replace mercury lamps to achieve sustainable goals. Nichia prioritizes environmental responsibility so that it introduced UV LED solution for disinfection instead of using mercury lamp. Nichia is pursuing higher performance, longer product lifetime and higher reliability products in the industry.

Beyond UVC LEDs for disinfection, Nichia also offers UVB and UVA portfolio to provide solutions for curing, printing and more for its clients.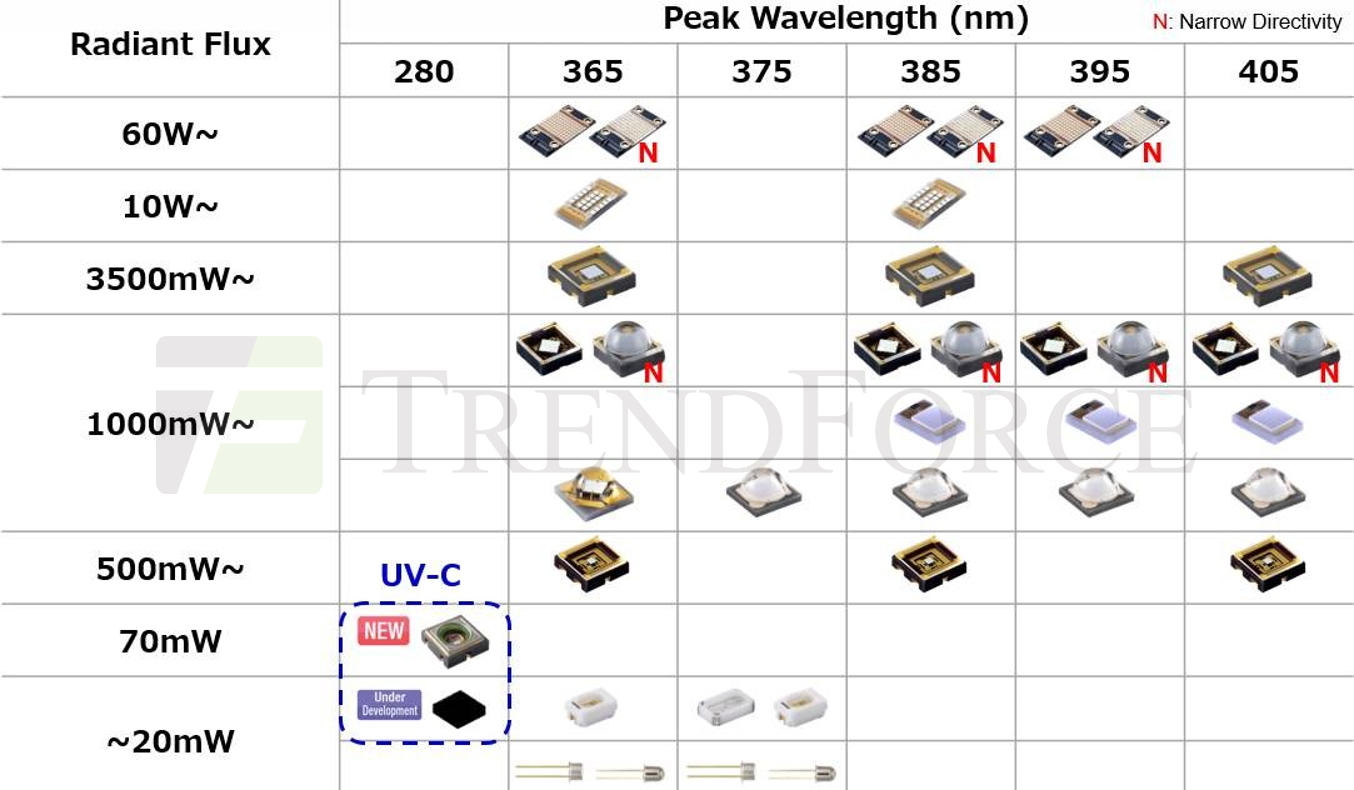 Author: Joanne Wu / Research Manager, TrendForce
TrendForce 2020 Deep UV LED Application Market and Branding Strategies
Release Date: 01 May 2020
Language: Traditional Chinese / English
Format: PDF
Page: 147
If you would like to know more details , please contact:
If you would like to know more advertising details , please contact: