The World IT Show 2021 hosted on April 21st to 23rd saw the debut of advanced products by both Samsung and LG.


Regarding high-end TVs, Samsung has showcased its Micro LED TV and NEO QLED Mini LED backlight TV, whereas LG has presented the first rollable OLED TV in the world.

Micro LED: planning for additional production lines
As indicated by the coverage of South Korean media, Han Jong-hee, President of Samsung Visual Display Businesses, commented during an interview that the production line for the 146-inch Micro LED is currently at full load, and additional production will be needed for the launch of 70 and 80-inches products during the second half of 2021.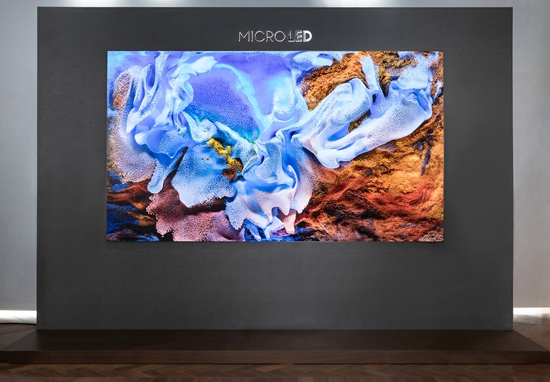 Photo Credit: Samsung
As LEDinside understands it, Samsung debuted its Micro LED The Wall TV in 2018, followed by Micro LED TVs of various sizes ranging from 75, 88, 93, 110, to 150 inches, then announced the new 110-inch Micro LED TV in December 2020 that highlights on home theater applications, which further consolidates the status of the company in the high-end TV market.

During the online product launch on March 22nd this year, Samsung claimed that products of 99 and 110-inches will be penetrating into the household market, and that the smaller 76 and 88-inches are to be revealed soon. Sources say that Samsung is on the verge of releasing its 88-inch Micro LED TV this autumn.

It is clear from the various dynamics that the Micro LED TVs of Samsung are marching into the consumer market, where the company disclosed during February this year that there are certain businesses and individual users who have already adopted its Micro LED TVs.

Samsung is currently seeking for breakthroughs in cost. A piece of information disclosed by South Korean media also during February this year says that Samsung Electronics is planning to adopt RGB one chip transfer technology to simplify the production procedure of Micro LED TV, which will in turn reduce production time and lower the product price.

Having succeeded in obtaining a substantial result in cost reduction, and adding additional Micro LED production lines, will not only yield a higher profit for Samsung, but also benefit the supply chain, including suppliers like San'an and AUO.

Pertaining to San'an, the Mini/Micro LED project in Hubei has officially commenced production, and will be providing Mini/Micro LED chips for Samsung.

As for AUO, business insiders claim that AUO has entered the supply chain of Samsung's Micro LED TV by providing glass panels, and will begin shipment in the second half of 2021.
Mini LED: short supply

Han also revealed the current development status of Mini LED backlight TVs, who commented that Neo QLED TV is generating astounding responses in the market, and is experiencing an excess demand.

Samsung officially announced the brand new Neo QLED TV series configured with the Mini LED backlight technology in January this year, which are offered in 4K and 8K, and comprise of sizes ranging from 55, 65, 75, to 85 inches.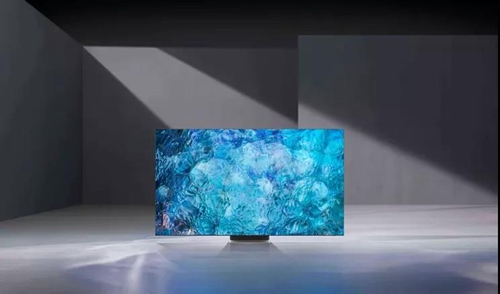 Photo Credit: Samsung
The Neo QLED TV of Samsung was officially launched in the domestic market last month, of which the 85-inch 8K QN900A is priced at NT$99,999, whereas the 75-inch variation is priced at NT$69,999. Actual sales are to be observed subsequently.

However, what is worth noting is that Samsung will be producing 2 million units of Mini LED TVs this year according to the original plan, and has established Mini LED production lines in Vietnam to prepare for the mass production of Mini LED TVs.

It looks like that the impending expansion in Samsung's Mini LED TV will also benefit suppliers like San'an, who had previously signed a supply agreement to be the primary supplier for the former.

Seoul Semiconductor will also become a beneficiary at the same time. According to the coverage of South Korean media, the company has succeeded in entering the supply chain of Samsung's Mini LED TV, for which its Mini LED products have been adopted in Neo QLED TVs, with merely a small quantity of shipment right now that is below that of San'an, though the two parties may implement a more profound collaboration in the field of Mini/Micro LED in the future.

Summary

Samsung is adamant in expanding the production for both Micro LED and Mini LED, as shown by different signals, which is why suppliers such as San'an, AUO, and Seoul Semiconductor are all expected to obtain additional relevant orders this year. In addition, South Korean media also revealed that Epistar and PlayNitride are both potential suppliers for Samsung.

2021 marks the departure for the prosperous development of the Mini LED industry, and the amplified degree of investment and promotion on Mini LED by additional brands including Samsung is likely to benefit all actors in the supply chain of Mini LED.

Take chips as an example; the analysis from the <2021 Analysis Report for the Tendency of the New Mini LED Backlight Display> published by LEDinside of TrendForce shows that the market value for Mini LED chips on the application of backlight TVs in 2021 is expected to arrive at US$270 million as the technology gradually overcomes its bottlenecks and reduces the overall cost, which means that the related Mini LED products from chip suppliers will contribute sizeable growth dynamics this year.

Author: LEDinside Janice