According to TrendForce's latest market research report "TrendForce 2023 Global LED Lighting Market Analysis-1H23", the global LED lighting market value shrank to USD 61.4 billion in 2022 with a 5% YoY decline due to numerous factors. Entering 2023, the market demand will likely recover thanks to the continue energy-saving revamp projects across Europe, the US, and Japan, upcoming LED replacement peak, and rapidly rising demand for high-quality, human-centric, and smart lighting among users, along with China's opening. That being said, manufacturers still have to reduce the high inventory level, while demand might be limited by soaring inflation. Considering the said factors, TrendForce predicts the global LED lighting market to be valued at USD 63.8 billion with a 4% growth rate (note: the lighting market covers branded and white box products starting 2H21).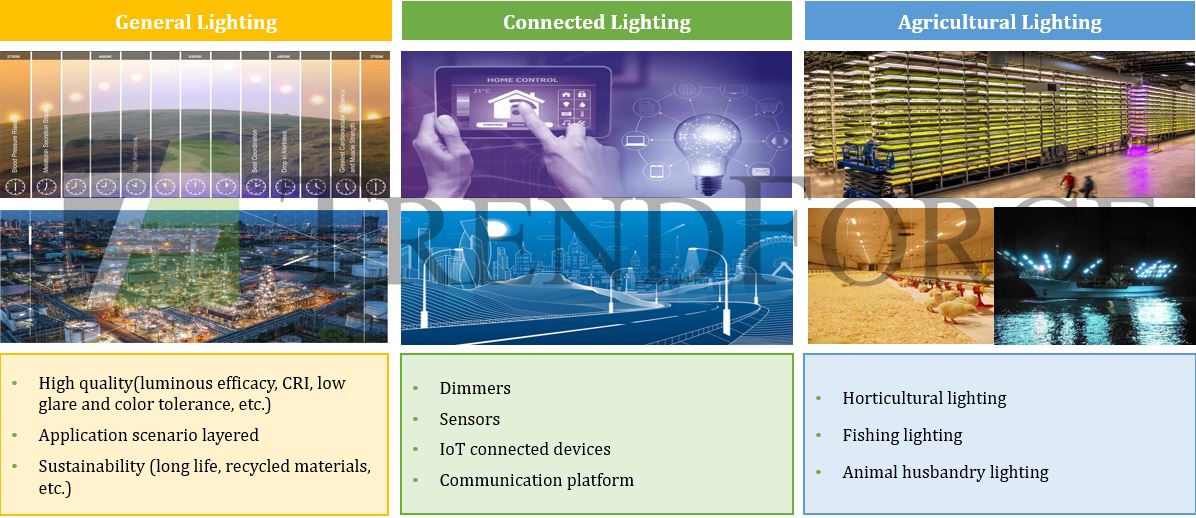 LED Smart Lighting Market
In 2022, the demand for LED products featuring dimming, color tuning, and smart control systems increased particularly in the outdoor and industrial lighting sectors. TrendForce's latest data show that the market value of global smart lighting market grew 12.9% to USD 6.9 billion in 2022.
Moving into 2023, consumer demand is expected to improve, which will prompt the smart household lighting market to recover. On one hand, products that are common in the commercial market have entered the smart household lighting sector, such as reflector lamps, downlights, and LED strips. On the other hand, the promulgation of new standards and protocols (e.g., the Matter standard) and entry of new players are estimated to boost the market value for 2023 to USD 2.4 billion.
LED Horticultural Lighting Market
TrendForce reported that the horticultural lighting market value plunged to USD 1.3 billion in 2022, a 20% YoY slump, due to numerous reasons. In the coming years, nonetheless, requirements of food safety will increase the demand for localized production and reduce pressure from supply chain costs. Moreover, climate change, loss of agricultural land, and favorable cannabis policies worldwide will together stimulate the development of controlled environment agriculture (CEA), thereby boosting LED penetration. Additionally, lighting companies have developed value-added products such as those combined with sensors and internet access. Based on the said factors, TrendForce predicts the market value of LED horticultural lighting to reach USD 1.44 billion in 2023 and jump to USD 2.45 billion in 2027 with a 2022-2027 CAGR of 11.5%.
2022-2023 Lighting Supplier Dynamics
As energy costs soared in 2022 due to the Russia–Ukraine war, which then drove up the demand for energy-saving LEDs and accelerated replacement of conventional lighting products with constant increases in LED lighting penetration. TrendForce discovered that the LED penetration rate among most suppliers already reached 85% and higher.
In the long run, energy conservation policies adopted by governments worldwide will still be the major growth momentum for lighting markets, while conventional lighting products will die out more quickly. Most suppliers are expected to focus on digital transformation for their lighting products and professional solutions creating healthier, smarter, and more convenient lighting experiences for customers. (By Christine Liu/Analyst of TrendForce Corp.)
TrendForce 2023 Global LED Lighting Market Analysis-1H23
Publication dates: February 10, 2023; July 31, 2023
Language: Traditional Chinese/English
File format: PDF and EXCEL
Number of pages: 100 (in each publication)
Chapter 1. Global Lighting Market Trend
•
TrendForce
LED
Lighting Market- Product Definition
•
TrendForce
LED Lighting
Market Product Definition- Luminaires
•
Connected Lighting to Create Second Growth Curve for LED
Lighting Industry
•
2022-2027 Global LED Lighting Market Forecast- by Application
•
2022 Global LED Lighting Market - Value Based: by Region vs. Product
•
2023 Global LED Lighting Market - Value Based: by Region vs. Product
•
2027 Global LED Lighting Market - Value Based: by Region vs. Product
Chapter 2. LED Connected Commercial Lighting Market Trend
•
2022-2027 Global Connected Lighting Market Scale
•
2022-2027 Global Connected Lighting Market Scale- by Application
•
2022-2027 Global Connected Commercial Lighting Market Scale- by Region
•
Connected Lighting Application Scenarios Demand Analysis
•
Connected Lighting Product Specifications Analysis- Commercial Lighting
•
Connected Lighting Product Specifications Analysis- Residential Lighting
Chapter 3. Horticultural Lighting and LED Market Trend


3.1 LED Horticultural Lighting Market Demand
•
2022-2027 LED Horticultural Lighting Market Scale- LED Luminaire
•
2022-2027 LED Horticultural Lighting Market Scale- by Price vs. by Application
•
2022-2027 LED Horticultural Lighting Market Scale-by Price vs. by Region
•
Progress of Legalizing Cannabis in North America
3.2 Overview of LED Horticultural Lighting
•
Drivers of Growth in the LED Horticultural Lighting Market
•
Distribution of Major Crops in the Horticultural Lighting Market
•
Fixtures and Spectrum Recommended for Common Horticulture Crops
•
Case Study of Plant Cultivation- Cannabis
•
Case Study of Plant Cultivation- Strawberry
•
DUV LED in Horticultural Lighting Market
•
LED Horticultural Lighting Specification Requirements- by Applications
•
Main Luminaire Categories of LED Horticultural Lighting Analysis
•
Horticultural Lighting Products Specification and Price Analysis – Greenhouse/Indoor Farm
•
Horticultural Lighting Products Specification and Price Analysis – Vertical Farming
3.3 LED Horticultural Lighting Supply Market
•
2022-2027 Agricultural Lighting LED Market Scale- LED Package
•
2022-2027 Agricultural Lighting LED Market Scale- by Power
•
Mainstream Horticultural Lighting LED Products Analysis
•
Horticultural LED Lighting Market Supply Chain
Chapter 4. Lighting Player Revenue Ranking and Strategies
•
Global Major Lighting Manufacturer List
•
2021-2022(E) Top 20 Lighting Player Revenue Forecast :Total Lighting
•
2021-2022(E) Top 20 Lighting Player Revenue Forecast: LED Lighting
•
Lighting Player Revenue and Product Strategies
Signify
Zumtobel
Fagerhult
Glamox Group
Acuity Brands
GE Current
Hubbell
Panasonic
Endo Lighting
IWASAKI
•
2021-2022(E) Top 10 Lighting Player Revenue Forecast:
Total Lighting and LED Lighting
•
Chinese Lighting Player Revenue and Product Strategies
MLS/LEDVANCE
Opple Lighting
NVC Lighting
Yankon Lighting
Chapter 5. Lighting LED Market Scale
•
2022-2027 Lighting LED Market Scale- by Application
•
2022-2027 Lighting LED Market Scale- by Package
•
2022-2027 Lighting LED Market Scale- by Power
Chapter 6. Lighting Market Regulations and Standards
•
Policies and Regulations on the General Lighting Market- Abstract
•
Light Quality- CRI vs. R9
•
2022-2025 Policies to Prohibit the Use of Conventional Fluorescent Lamps
•
Europe- ErP New Energy Label
•
North America- DLC for General Lighting
•
North America- DLC for Outdoor Lighting Requirements
•
North America- DLC for Horticultural Lighting
•
China- Low Blue Light (RG0)
•
Policies- Other Regions
If you would like to know more details , please contact: