Energy efficiency per EU Ecodesign increases one full class for LUXEON 90CRI CoBs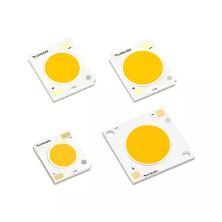 San Jose, CA – May 18, 2023 – Lumileds has released its 5th Generation CoBs in the Core Range and Core Range PW lines elevating output and efficacy and particularly for 90CRI parts. Output and efficacy increases for high-CRI parts are critical for the retail and hospitality industries in particular in which CoBs play a vital role as the source for spot and area lighting.

"Our new 5th Generation CoB LEDs serve lighting manufacturers' need for more light, higher efficacy, better than ever quality of light, and reliability they can count on," said Noman Rangwala, Global Product Manager at Lumileds. "The significant performance increases are the direct result of our unique phosphor mix and LED manufacturing experience, and our commitment to continuously advance the state-of-the-art as we address the needs of lighting manufacturers."

Lumileds tests and measures its CoBs per the European Union's Ecodesign Directive and by these standards, 90CRI LUXEON Core Range CoBs have increased one full class. Complete energy specifications can be found on the European Product Registry for Energy Labeling (EPREL) website.

Phosphor advances also contribute to superior color stability as the latest LUXEON Core Range CoBs are dimmed. This performance is especially critical in retail installations in which spotlights are often positioned at different distances from the merchandise. To achieve even illumination, some of the lighting is dimmed and that can result in uneven color in the beam and visual effects on the merchandise. To resolve this common problem, Lumileds focused on color stability over dimming to ensure even color throughout the light beam regardless of dimming intensity.

LUXEON CoB Core Range Gen 5 and Core Range PW Gen 5 are available now through Lumileds global distribution network. Product details, specifications and datasheets are available at https://lumileds.com.

Visit Lumileds in stand 2642 at the upcoming Lightfair International Exhibition, May 23-25 in New York City.


About Lumileds
Lumileds is a global leader in OEM and aftermarket automotive lighting and accessories, camera flash for mobile devices, MicroLED, and light sources for general illumination, horticulture, and human-centric lighting. Our approximately 6,000 employees operate in over 30 countries and partner with our customers to deliver never before possible solutions for lighting, safety, and well-being. To learn more about our company and solution portfolios, please visit lumileds.com.

As a leading lighting solutions company for the automotive industry, Lumileds is licensed to use the Philips brand for its automotive lighting and accessories product portfolio.


TrendForce 2023 Global LED Lighting Market Analysis-1H23
Publication dates: February 10, 2023; July 31, 2023
Language: Traditional Chinese/English
File format: PDF and EXCEL
Number of pages: 100 (in each publication)
If you would like to know more details , please contact: