This year, Touch Taiwan 2023 set the tone for the year with its "Micro LED: The Year of Mass Production" exhibition. Micro LED has been facing challenges in mass transfer, bonding, and testing. With the integration of upstream, midstream, and downstream manufacturers and technological advancements, however, commercialization is no longer an empty slogan but an anticipated future.


AUO plans to commence mass production of Micro LED watches in November and December this year, making its entry into the commercial market imminent. Chairman Shuang-lang Peng expressed at a press conference his hope that the cost of Micro LED would follow the pace of Moore's Law, with costs halving every two years or even faster. This implies that the technological bottlenecks, such as mass transfer, defect detection and repair, have gradually been overcome and improved.

Among these challenges, the mass transfer of Micro LEDs is the most critical aspect. The speed, yield, and output of mass transfer directly impact costs. To ensure 100% yield accurately and quickly, defect detection and repair techniques have become another key focus.

Jonathan Ku, senior director of business development at ASMPT, pointed out that one of the reasons for the slow development in the Micro LED industry lies in the difficulty in defect repair. During mass transfer, not all of the Micro LEDs can be lightened up smoothly. Both the COB (chip on board) and MIP (Micro LED in package) processes require repairs before bonding to effectively reduce costs and improve product yield.


Micro LED Cost Likely to Follow Moore's Law with Another Mass Transfer Breakthrough
At present, mass transfer technologies for Micro LED include fluid assembly, laser transfer, roll-to-roll transfer, and stamp pick-and-place techniques, which can cater to different customer requirements. The pick-and-place technique works based on microelectromechanical array technology. However, the process has low production flexibility. Laser transfer, on the other hand, enables rapid and selective transfer of Micro LEDs from the original substrate to the target substrate on a large scale simply through laser beam adjustments.

As Jonathan revealed, ASMPT has developed laser transfer equipment from the pick-and-place technology. The latter is more mature, and the company's AD300Pro can bond up to 300,000 Micro LEDs at once, enabling the production of Micro LED watches and meeting the needs of general AR micro displays.

Despite the high precision and flexibility of laser transfer, production safety and routine maintenance are two big concerns for the technology. Some laser transfer equipment has certain requirements for factory facilities, therefore customers have to choose their own mass transfer technology based on costs, factory scale, and needs.

To overcome the challenge, ASMPT announced its latest laser transfer equipment, LT300Pro. Engineered with self-developed technologies, the equipment has overcome safety issues, which allows it to be installed in general factory settings right away. Customers are sometimes hesitant when it comes to laser transfer machines due to cost concerns, as they often require specific material provided by specific supplier. Unlike these conventional models, the LT300Pro comes with materials that can be acquired in the market more easily.

In terms of efficiency, the LT300Pro can achieve mass transfer at a rate of 9,000 Micro LEDs per second. It also features repair capabilities, allowing simultaneous repair on carriers in the front-end process, thereby improving front-end yield and simplifying the back-end repair processes. This enhances flexibility, reduces time and cost and creates a cost advantage in manufacturing.


Well-Prepared in Terms of Material and Technology, ASMPT Partners with Customers to Mass Produce Micro LEDs
With the step-by-step realization of the industry's Micro LED mass production plans, products are finding diverse applications. ASMPT already has mature mass transfer bonding machines and it has introduced a highly flexible laser transfer machine to fit customers' mass production plans for this year and next. Jonathan specified that the company plans to launch another laser application equipment next year to meet customers' needs for Micro LED development. "The LT300Pro will be supplied to strategic customers in the second half of this year and we expect to officially introduce it to the market next year," he said.

However, whether the Micro LED industry can successfully take off depends on yield rates, costs, equipment maturity, post-integration yield, and the ability to achieve mass production. ASMPT has been strategically positioning itself in the Micro LED process for many years, and with the arrival of the year of mass production, it expects the Micro LED market to truly take off in 2024 and 2025. Jonathan stated, "ASMPT has prepared on both fronts in terms of technology and materials. On one hand, we have the mature and stable equipment AD300Pro, and on the other hand, we have the highly flexible laser mass transfer technology LT300Pro. In the face of the opportunities and mass production schedules in 2024, we are really seeing customers preparing for the next wave of small-scale production plans."

Manufacturers have already mass produced large Micro LED displays and are progressing as scheduled in smartwatches, while automotive transparent displays have moved into the spotlight in recent years. With rumors of Apple launching the Apple Watch Ultra equipped with a Micro LED display as early as 2024, there is hope for accelerating the launch of Micro LED into the market. From 2026 to 2030, Micro LED is projected to expand into devices such as AR glasses, smartphones, and automotive displays.

o expand into devices such as AR glasses, smartphones, and automotive displays.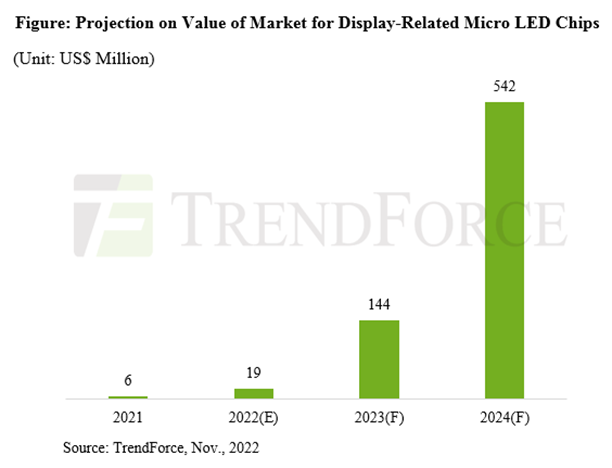 According to TrendForce, the continued development of smartwatches, smart vehicle cabins, and transparent displays will likely give rise to high-end Micro LED applications. The estimated chip revenue for various display applications is projected to reach $542 million by 2024. Furthermore, the revenue will skyrocket after Micro LED technologies become mature in 2025.


TrendForce 2022 Micro LED Self-Emissive Display Trends and Analysis on Supplier's Strategies
Release date: 31 May 2022 / 30 November 2022
Format: PDF
Languages: Tradional Chinese / English
Pages : 130–150 in total (subject to change)

TrendForce 2023 Global LED Lighting Market Analysis-1H23
Publication dates: February 10, 2023; July 31, 2023
Language: Traditional Chinese/English
File format: PDF and EXCEL
Number of pages: 100 (in each publication)
If you would like to know more details , please contact: