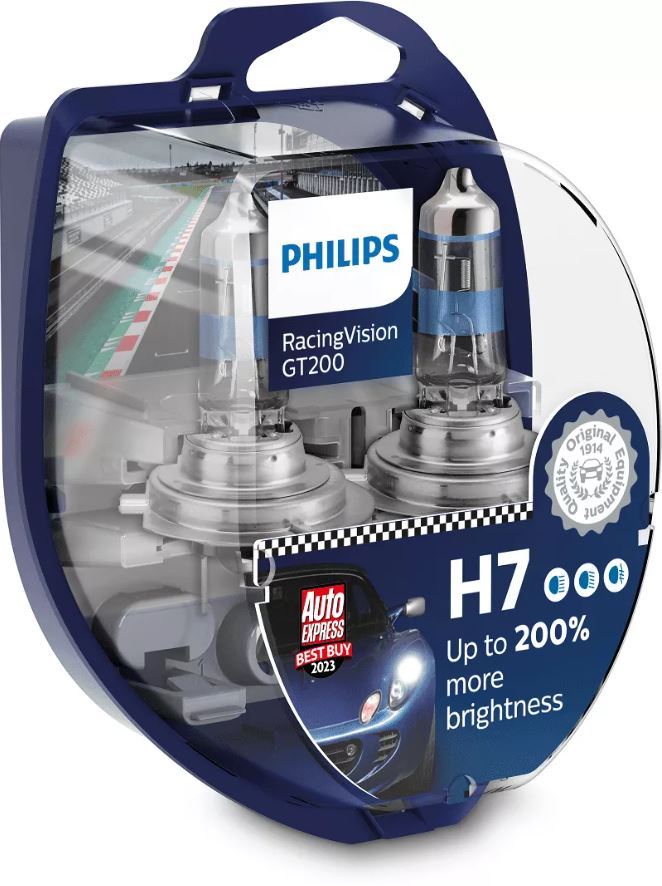 Suresnes France, — Philips RacingVision GT200 has won the prestigious Auto Express title of Headlight of the Year in the 2023 staging of the magazine's annual Product Awards. Lumileds, the global manufacturer of Philips automotive products, is celebrating yet another award for this pioneering headlight, further adding to the host of accolades the bulb has received since its introduction.


In its 2023 Awards Issue, Auto Express described Philips RacingVision GT200 as a shining example to the rest. The Philips bulb had the longest beam length and scored the highest on the Figure of Merit figure that combines all of the various measurement criteria that are tested. In addition, when deciding this year's Headlight of the Year, Auto Express for the first time added in price, and therefore value, as a contributing factor to its decision.


Philips RacingVision GT200 – setting the standard for increased safety
Philips RacingVison GT200 raised the bar for halogen headlight bulbs when it was introduced a couple of years ago, as the first bulb to deliver light that was up to 200% brighter compared to the minimum legal standard.

Earlier in the year, Philips RacingVision GT200 bulb topped the Headlamp Mega-test conducted by the magazine, and the bulb has now won numerous awards across Europe for its stellar performance. It became the new benchmark for halogen headlight bulbs, the world over when it was launched in 2020, and it continues to be the standard by which other bulbs are judged.

"Auto Express has long been regarded the leading product tester of automotive products in the UK, so we are delighted that RacingVision GT200 has been recognized as 2023 Headlight of the Year," enthuses Lumileds UK Business Manager, Richard Armstrong. "Philips headlights have an absolutely incredible record in the Auto Express Product Honours, with awards for Headlight of the Year that go back to the 1990s. In fact, Philips headlight bulbs have been adjudged the Auto Express Headlight of the Year more times, since the awards began, than all the other automotive lighting manufacturers combined, which I think speaks volumes about the ongoing drive for innovation behind our products, as well as their performance and quality."


Up to 200% brighter light for a safe drive!
Philips RacingVision GT200 remains the flagship of the halogen range, delivering the type of super-bright visibility of a rally bulb, but in a format that drivers can use on public roads. With its ultra-performance beam reaching a full 80 meters further than the minimum length[1], Philips RacingVision GT200 lets the driver see more of the road ahead. It also helps spot potential hazards sooner, react faster, and position more accurately on the road. The optimized bulb design provides higher luminance for a better view of the road ahead, which all adds up to a safer, more satisfying driving experience.

Much of this is down to the optimized bulb design, which provides higher luminance for a better view of the road ahead, with its ultra-performance beam reaching a full 80 meters further than the minimum length. Diamond Precision quartz glass also ensures more light output within the regulation limits and guarantees a sharp cut-off line for the beam – so as not to dazzle oncoming drivers – as well as a brighter sweet spot to give more brightness where it counts. Philips RacingVision GT200's quartz glass also gives greater thermal shock resistance, protecting the bulb's lifespan, while enhanced UV absorption protects the car's headlight optic.

Philips RacingVision GT200 is available in the most common headlight bulb types, H4 and H7.


A history of innovation and the promise of quality together with enhanced safety
Almost every major innovation in automotive lighting over the last fifty years has been through Philips lights, first with halogen and then high-performance halogen bulbs, HID Xenon lighting, long-life halogen, and LED retrofit lighting.

Technologically advanced Philips lighting is renowned in the automotive industry and has been for over 100 years. The Philips Original Equipment Quality products are designed and developed following strict quality control processes (including applicable ISO norms), leading to consistently high production standards. Philips RacingVision GT200 is compatible with car models of major brands, such as Audi, BMW, Ford, GM, Toyota, and Volkswagen.

About Lumileds
Lumileds is a global leader in OEM and aftermarket automotive lighting and accessories, camera flash for mobile devices, MicroLED, and light sources for general illumination, horticulture, and human-centric lighting. Our approximately 6,000 employees operate in over 30 countries and partner with our customers to deliver never before possible solutions for lighting, safety, and well-being. To learn more about our company and solution portfolios, please visit https://lumileds.com.

As a leading lighting solutions company for the automotive industry, Lumileds is licensed to use the Philips brand for its automotive lighting and accessories product portfolio.



TrendForce 2022 Global Automotive LED Product Trend and Regional Market Analysis
Release Date:
1. PDF(123 Pages)- 30 June 2022
2. EXCEL- 30 June 2022 and 31 December 2022
Languages: Traditional Chinese / English
If you would like to know more details , please contact: