(May 23, 2023, Los Angeles, USA) — JBD (Jade Bird Display) unveiled its "Hummingbird" polychrome MicroLED projector at SID which is already in mass production since May 2023. This revolutionary product incorporates JBD's cutting-edge MicroLED display panels which just won the SID "2023 Display of the Year" award. The Hummingbird features lightweight, ultra-compact form factor, ultra-high brightness, vivid and saturated colours and best-in-class energy efficiency. These advantages make Hummingbird projectors the best-available full-color solution which would significantly improve user experience in smart glasses and consumer AR applications.


JBD's Hummingbird polychrome MicroLED projector – Technical Specifications


applications.

JBD's Hummingbird polychrome MicroLED projector – Technical Specifications

| | | | |
| --- | --- | --- | --- |
| | | | |
| | | | |
| Projector type | Non-polarized color | - | Xcube with RGB panels |
| | | | |
| Resolution | 640 x 480 | - | L x W |
| | | | |
| Brightness uniformity | >70% | - | |
| | | | |
| MTF | >0.3 | - | 62.5 lp/mm |
| | | | |
| Position of exit pupil | 0 | mm | in front of lens |
| | | | |
| Typical luminous flux | 3.0-5.0 | lm | |
| | | | Normal operation condition |
| Volume | 0.4 | cc | Displacement volume |
| | | | |
| Weight | 1.0 | g | |
The Hummingbird offers an 8-bit color depth, resulting in a display with a palette of 16.77 million colors. The integration of new Gamma and Demura algorithms enhances color precision significantly. The full true color display exhibits high brightness, sharp contrast, and vibrant colors, providing a visually captivating experience to AR glasses users.

The JBD Hummingbird features the award-winning "2023 Display of the Year" Microdisplay: the 0.13-inch AmµLED™ MicroLED display. This product has garnered recognition and wide adoption for its exceptional innovation in display technology and notable contributions to the AR/VR field. JBD stands as the sole manufacturer specializing in MicroLED display technology to have received this esteemed award. The monochrome display panels offer an impressive pixel density of 6350 PPI and a VGA resolution. Despite its small form factor, this Microdisplay achieves ultra-high brightness levels of 0.75 million nits for red, 5 million nits for green, and 1.0 million nits for blue light.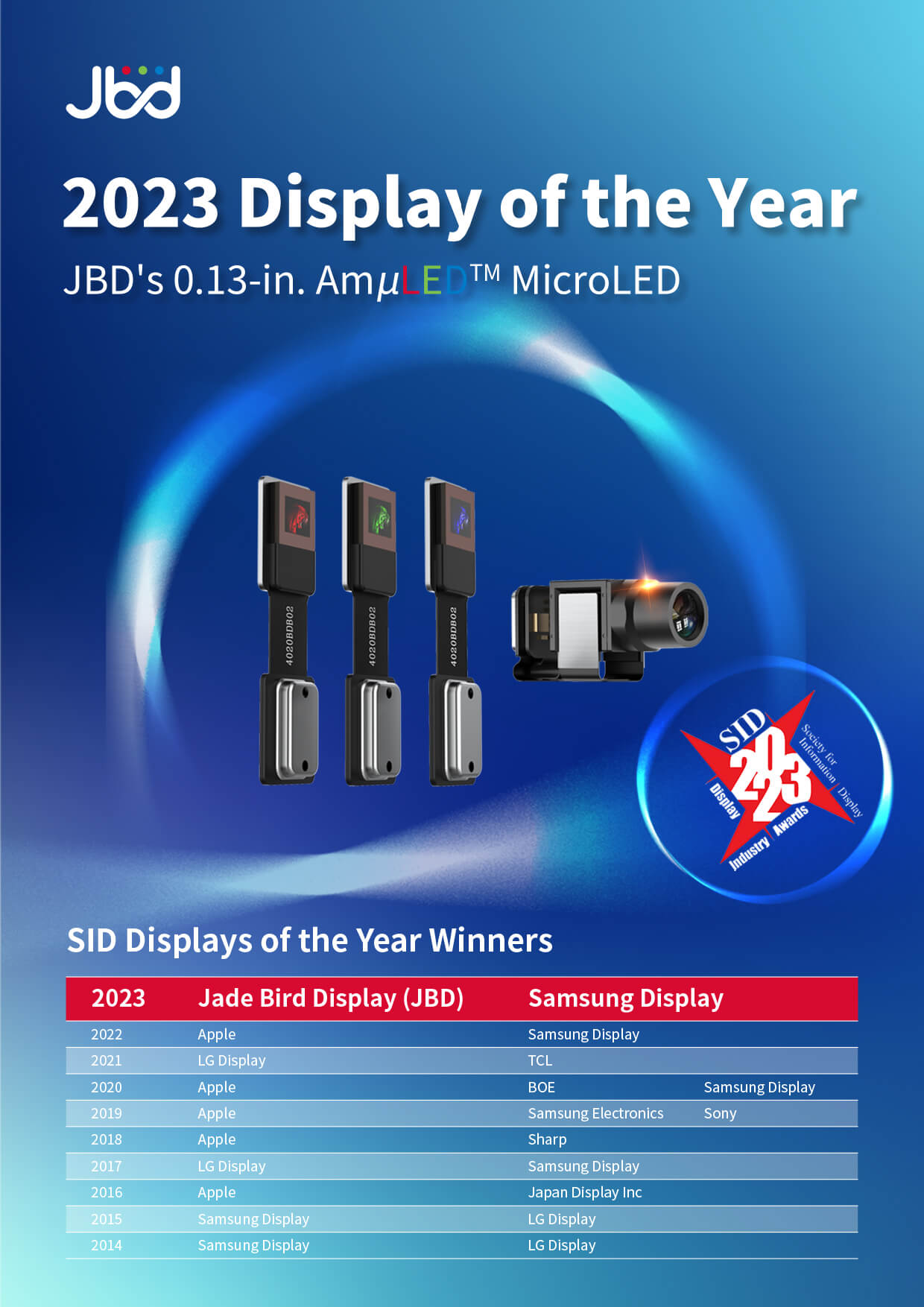 JBD's SID "2023 Display of the Year" award winning 0.13-inch MicroLED display
In addition to the Hummingbird, JBD is also showcasing a binocular MicroLED polychrome optical module reference design at SID. This demonstration features a design that resembles regular glasses, allowing users to experience vivid static and video content in truly saturated colors. The introduction of JBD's binocular color module is set to drive rapid and significant advancements in the AR industry. It will significantly reduce the development time for manufacturers of binocular color AR glasses, enhance development efficiency, reduce costs, and facilitate quick application in the consumer market.


TrendForce 2022 Micro LED Self-Emissive Display Trends and Analysis on Supplier's Strategies
Release date: 31 May 2022 / 30 November 2022
Format: PDF
Languages: Tradional Chinese / English
Pages : 130–150 in total (subject to change)
If you would like to know more details , please contact: