ALW – a manufacturer of high-performance, high-design architectural luminaires – introduces the longest continuously lensed LED luminaire on the market, SuperPlane 4 Recessed™.
Featuring ALW's new, proprietary ControlRoll™ Optics roll-out/snap-in lens that distributes, diffuses and delivers seamless illumination up to 250 feet, SuperPlane 4 Recessed provides uninterrupted lines of light at lengths 2-5 times longer than similarly lensed luminaires. The optically engineered ControlRoll lens is designed to lay flat, run straight and dynamically shape output to emit either direct ambient light or direct asymmetric light ideal for wall washing.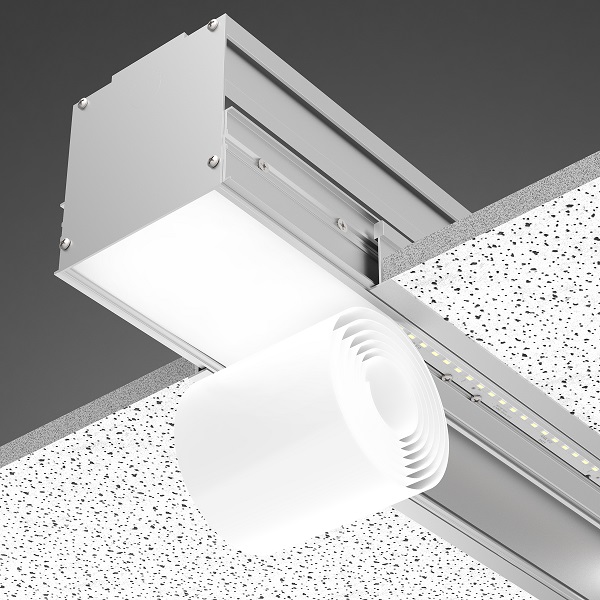 (Image: ALW)
"Superplane 4 Recessed enables lighting designers to go long, gracefully, greater than ever," says ALW CEO Shira Steinbeck. "With no lens gaps, no light leaks, no shadowing and the ability to seamlessly span great distances almost as long as a football field, the ideal of linear lighting has been fully realized."
SuperPlane 4 Recessed is eligible for 10-day-or-less QuickShip shipping with many popular add-ons, including configurations with 90-degree mitered corners and integral occupancy-detection, photoelectric or multi-function Enlighted smart sensors.
Additional standout features of SuperPlane 4 Recessed include:
• Energy-saving, standards-meeting performance up to 110 lm/W
• Glare-free illumination with a UGR rating of 10 in typical applications
• Output options from 300 to 1200 delivered lumens
• CompleteSuite™ Color LED lamping options:
- 3000K, 3500K or 4000K CCT (80+ or 90+ CRI)
- 2700K-5700K tunable white
- Color-changing RGB or RGB+White
• Integral 0-10 volt, DALI, DMX or Lutron drivers
• Dimming options down to 0%
• Flush, regressed and perimeter mounting options
• Easy installation into T-grid, slot, Techzone, wood and metal ceilings