Pointengineering(PEC), a UVC PKG manufacture company in Korea, has demonstrated various power UVC LED package at 2019 Guangzhou International Lighting Exhibition (GILE 2019).


The company began with manufacturing Al metal frame that optimize UV light. Now, the company makes a technical progress toward the UV sterilization market with DOWA electronics. As a result, a UVC specialized brand, UVON, was launched in the market.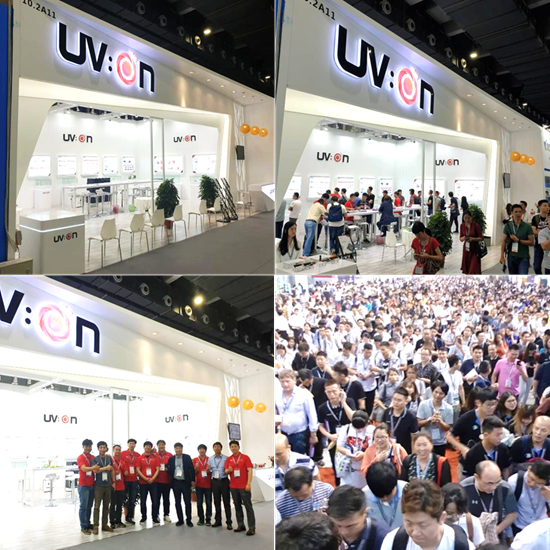 (UVON at GILE 2019; image: PEC/UVON)
Products line up organized 3 kinds of series such as 3.5mW power operation with 4.8V and 20mA current condition M-Series products, over 10mW(60mA, 5.5V) optical power S-Series and over 1100mW (1750mA, 28V) optical power L-Series package.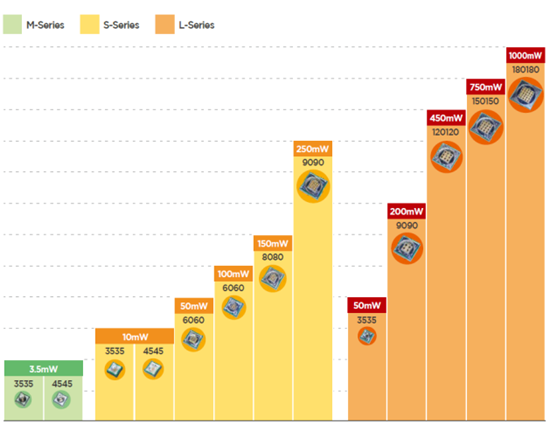 (Product portfolio of UVON's UVC package; image: PEC)
Those UVC LED products applied Al Metal substrate to maximize UVC reflectance rate and radiant flux efficiency. LGIT and SeoulViosys also applied PEC's Al metal frame for their UVC LED package. PEC is aware of the issue that previous UVC LED package power was not enough to apply for mass quantity water sterilization. Therefore, the company developed high power multi chip UV package using Al metal Frame to cover the weakness of single chip package such as expensive price and long developing time. Now PEC is ready to provide 15mm*15mm*1.8T size 1100mw UVC package.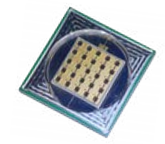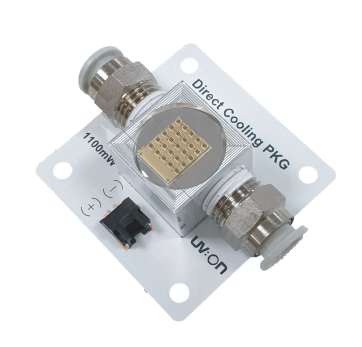 (Direct colling package 1100mW)
At the same time PEC not only sells UVC package but also offers customized service. Normally small and medium companies do not have sterilization power evaluation laboratory and measuring instruments. So they only develope the final products refer to the sterilize result. Measuring instrument also does not have standardization and it brings different optical power result from each manufacturer. According to this, customers are difficult to find appropriate packager refer to product optical power data and specification. PEC's customized service offers actual optical design and sterilization power evaluation test as well as data for each customer order for reliable product development. It brings customer full satisfaction in the market recently.
PEC is receiving attention in the fast growing UVC LED market with the highest efficient product and price competitiveness. Final customer price of PEC UV brand UVON products are $1 for 3.5mW($0.29/mW) and $20 or 10mW($0.2/mW).

-FAN + Sterilization Module 2hr operation reduce the colony under 5eaUVC
-It means sterilization module is effective for air sterilization