Lighting Research Center (LRC) announced the partnership with Eaton to work on a project of additively manufactured LED-integrated luminaire, which is to use 3D printing technology to produce LED luminaires.


The 3D printing luminaire development project is under funding from the United States Department of Energy and aims to address the main barriers to widespread adoption of 3D printing technology as applied to solid-state lighting.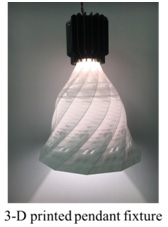 (Image: Lighting Research Center)
Over the next two years, the project partners will conduct material science, electronics, optics, and advanced manufacturing research to investigate the transformational potential of a fully additively manufactured, LED integrated luminaire, with a focus on reducing the cost of the luminaire's dominant subsystems. Components of a solid-state luminaire will be fabricated using additive manufacturing methods, including mechanical and thermal management structures, electrical and electronic structures (on three-dimensional representative substrates), and optical and light reflector structures.
<iframe allow="accelerometer; autoplay; encrypted-media; gyroscope; picture-in-picture" allowfullscreen="" frameborder="0" src="https://www.youtube.com/embed/8BVoTVV2ZzE" ></iframe>
3D printing technology is adopted for luminaires to cut down cost and improve sustainability of the production process. Signify, as one of the world's leading lighting companies, also invests in 3D printing technology for luminaire manufacture. The Dutch company plan to set up 3D printing factories in the U.S., India and Indonesia.