Stanley Electric has developed IR VCSELs to be used as a new sensing light source for automotive applications (AEC-Q102 compliant). A VCSEL(Vertical Cavity Surface Emitting Laser) is a device mounted on a board whose light source is a vertical emitting laser.


is a device mounted on a board whose light source is a vertical emitting laser.

In order for cars to become a safer, more comfortable means of transportation, automotive applications are continuing to evolve with advanced driver assistance systems (ADAS), or autonomous driving technology. Infrared light is used inside the vehicle to monitor the driver and the passengers, and the demand for such light source in changing according to each applications' evolution. We added IR VCSELs to our lineup to satisfy our customers's needs with an optimal solution.

| Automotive applications that use infrared light sources |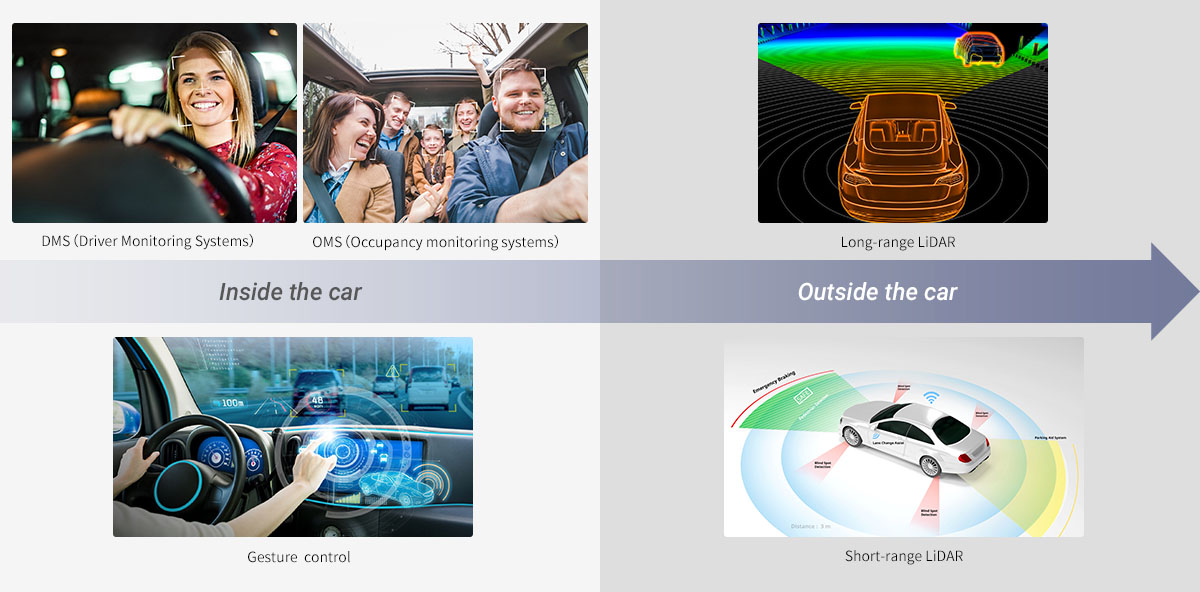 The superiority of VCSEL light source
As a sensing light source, comparing VCSELs to LEDs leads to the differences listed below.

Light distribution control suitable for the angle of view of the camera
VCSELs are surface-mounted lasers that emit in the vertical direction. Since there is little light leaking in the horizontal direction, it is possible to control the light distribution suitable for the angle of view of the camera, such as a rectangular irradiation image.
| LED and VCSEL light distribution example |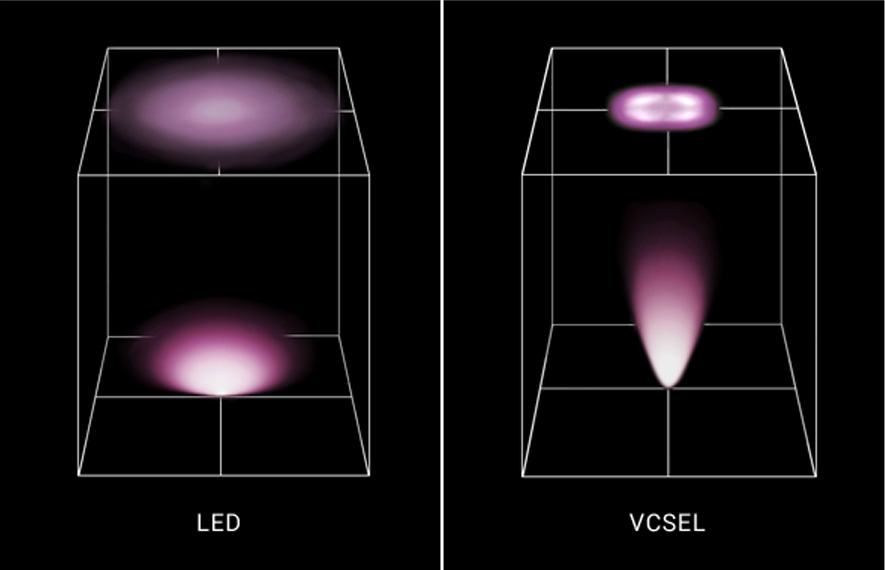 | Application example (DMS) |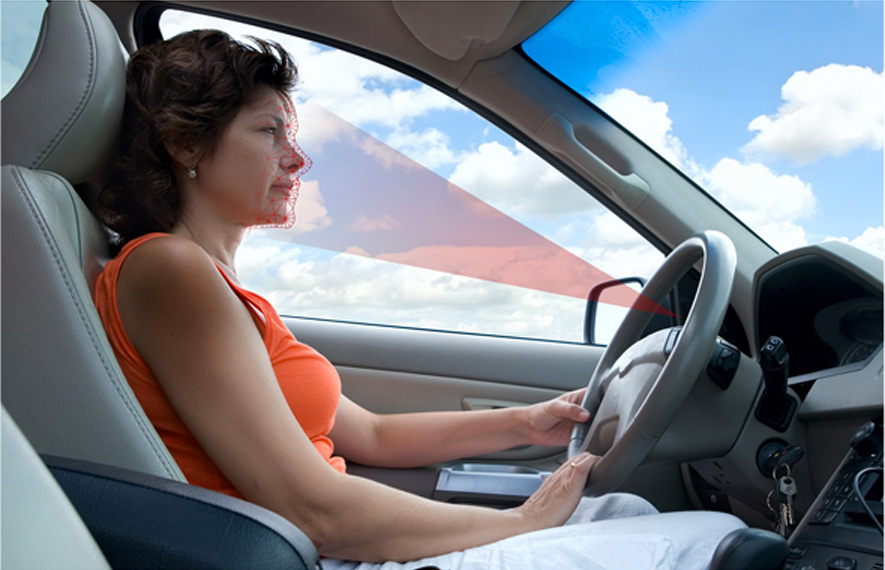 | Use of bandpass filter |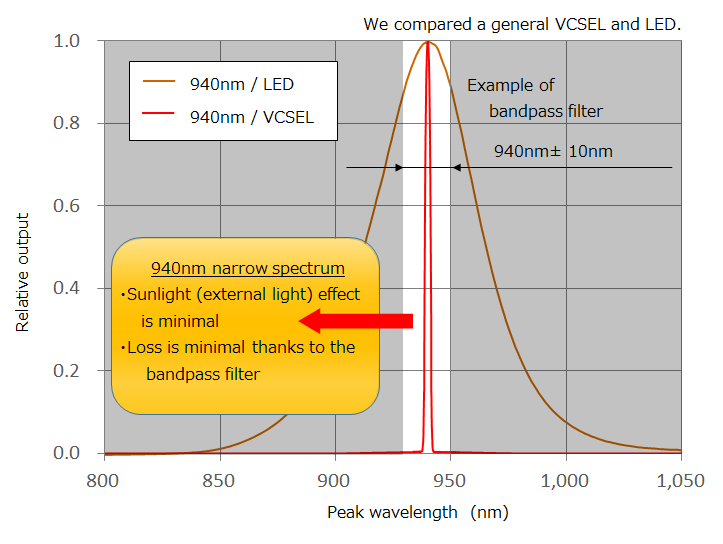 Good compatibility with bandpass filters
Generally, in automotive applications, a bandpass filter (a filter that cuts a specific wavelength) is attached to the sensor to prevent noise caused by sunlight during sensing. Compared to LEDs, VCSELs have a narrower wavelength spectrum and smaller changes in wavelength due to temperature, resulting in less light loss due to filters. As a result, the light from the VCSEL reaches the sensor efficiently.
| Responsiveness when the product is lit with pulsed current |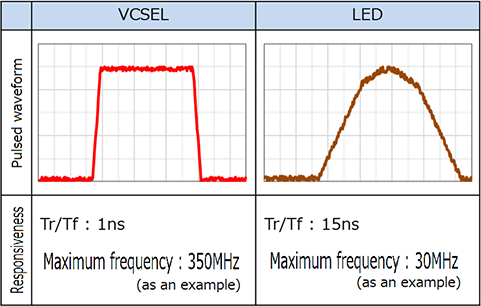 High-speed pulsed lighting is possible
VCSELs are characterized by a fast rising / falling response speed when lit with pulsed current. Since the pulse lighting interval can be accelerated, it is suitable as a light source for TOF cameras (using the flight time of light for observation) that requires high-speed sensing.
Stanley Electric's IR VCSEL's features
| Consolidating Stanley Electric's |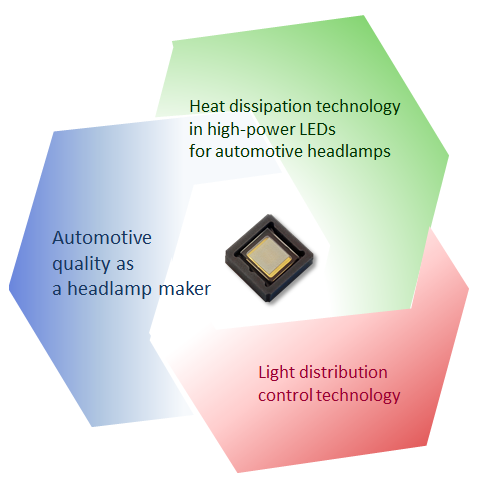 Devices used in automotive in-cabin applications are required to have stable quality even in harsh environments. Stanley Electric has developed a highly heat-dissipating / highly reliable VCSEL device using the packaging technology cultivated with high-power LEDs for headlamps, etc., and has achieved the automotive standard AEC-Q102. In addition, we have obtained a light distribution according to each application by using light distribution control technology, which is our strength that has handled light for various purposes such as lamps and lighting.
IR VCSEL product lineup
There are two types of products with different light distribution as standard products, and we will further expand the lineup in the future. Regarding eye safety, all products are safety standard class 1 of IEC60825-1 & CFR Part1040.10, and are designed so that there is no problem even if they emit light towards people.