ANSAN, South KoreaSeoul Viosys (KOSDAQ: 092190), a company specializing in optical semiconductors, announced that Violeds, a short-wavelength optical semiconductor technology, has an excellent effect in capturing the love bugs in a short time and powerfully eradicating them, which was proven in Seoul Viosys' capturing experiment. Love bugs have appeared on a large scale recently in Korea and are causing pain to people.
Violeds technology is an insect repellent technology that attracts mosquitoes and fruit flies using Ultra Violet (UV) LEDs. Seoul Viosys developed the world's first optimal insect repellent solution with the wavelength, brightness, and design structure preferred by mosquitoes. The experiment was conducted to verify whether it works for love bugs as well as mosquitoes.
When developing the insect repellent solution, Seoul Viosys conducted R&D and experiments in collaboration with Professor Lee Dong-gyu of Koshin University and Dr. Philip Koehler, the University of Florida, both of who are experts in the mosquito field. As a result, it was confirmed that the capture power of Violeds was up to 13 times higher than that of the conventional mercury lamp trap. For the past decade, Seoul Viosys has tested and studied the insect repellent performance of Violeds in areas where bugs and mosquitoes actually cause a lot of harm to humans, including Korea, Vietnam, and Indonesia, to confirm the excellence of technology.
[Photo] Yuhan's Happy Home 360product with Violeds technology during an hour-long love bug capturing experiment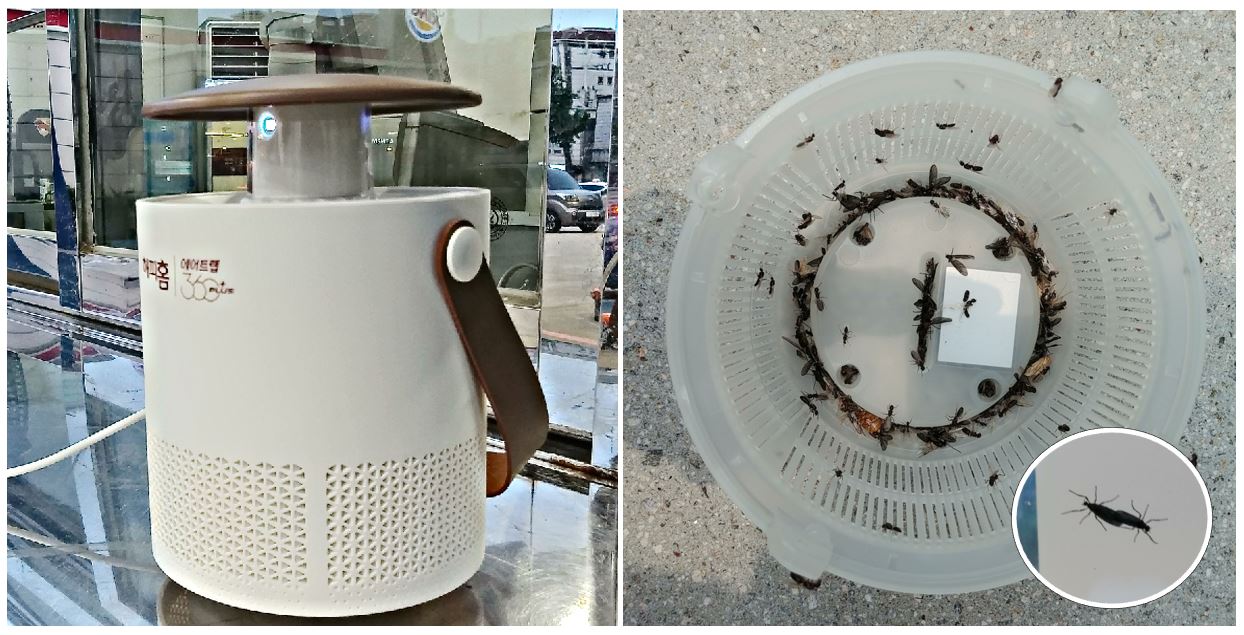 "World-class companies at home and abroad, such as Yuhan Corporation and Rentokil Initial, have adopted and mass-produced our Violeds technology. Quarantine using insecticides such as mosquito repellent is harmful to the human body, causes trouble to clean dead insects, which is not good for hygiene. Therefore, in homes with children,in sanitary commercial facilities such as restaurants, it is the best way to have insect repellent facilities applied with Violeds technology," said Eom Hoon-sik, Principal Engineer of UV Division, Seoul Viosys. "Recently, more and more companies are copying Violeds technology worldwide, but we will do our best to keep customer rights through continuous patent litigation."
Love bugs, which have recently become a hot topic in Korea, appear in swarms, clinging to people, and break into the house through door gaps and insect screens, causing disgust and inconvenience to people. According to the Ministry of Environment's National Institute of Biological Resources, "Love bugs, a species of march fly, lay 100 to 350 eggs at a time, and they turn into larvae after about 20 days. Considering that they hatch at the same time and their adult period is short, the spread is expected to continue a little longer."
If you would like to know more details , please contact: