> Mini
LED
and Micro LED have been two cutting-edge technologies in the spotlight across the display industry, where relevant applications are thriving, particularly those powered by Mini LED. After Apple launched its Mini LED iPad Pro, Mini LED is expected to take off quickly in the market.
However, the transfer process remains a challenge for mass production of Mini LED (and Micro LED, too). Processing a large number of Mini/Micro LEDs (which is necessary for mass production) using the existing technologies and equipment is apparently too time-consuming and costly. Under such circumstances, providers of mass production solutions and equipment will play a pivotal role deciding whether Mini LED can be commercialized.
Kulicke & Soffa (K&S), a Singaporean semiconductor package and equipment provider, has successfully entered the Mini LED (and Micro LED) mass transfer market with advanced laser transfer technologies. The company is also a total solution provider offering assistance for its customers to reduce manufacturing costs and accelerate the achievement of mass production.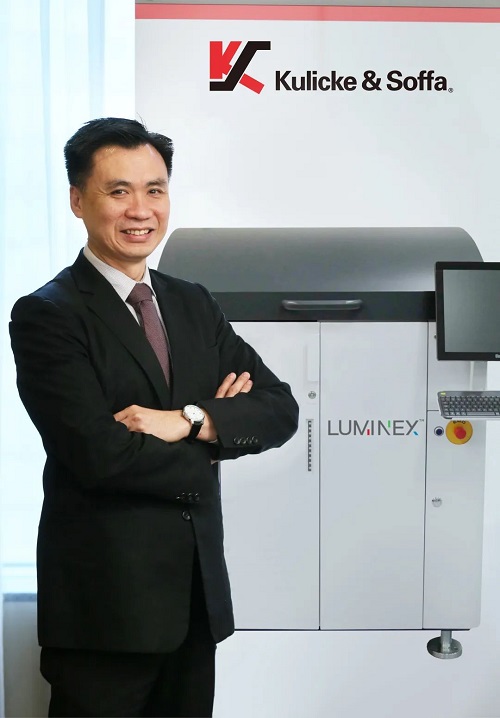 K&S Overcomes Mass Transfer Difficulties with Improved Laser Transfer Technology
Chan-Pin Chong, executive VP at K&S, said that Mini LED will be mainly used for consumer electronics like tablets and notebooks, with relevant products expected to be released in the next 2 to 3 years.
Despite the gradual maturity of Mini LED in the recent years—where manufacturers will overcome various problems and ultimately achieve commercialization—mass transfer remains to be the biggest challenge for mass production, indicated Chong.
Currently, most suppliers adopt stamp technologies based on the mechanical pick-and-place concept to perform Mini LED mass transfer because of their simplicity and compatibility with the existing equipment. However, the stamp pick-and-place process is not fast enough for Mini LED despite its readiness for mass production. Moreover, such transfer process consumes excessive materials, consequently increasing the product cost.
To solve the problem, a faster, more efficient transfer technology is required for Mini LED mass production. Accordingly, K&S decided to adopt laser transfer as a solution. The company proceeded to announce a plan to acquire US tech company Uniqarta in early 2021 to further sharpen its laser transfer ability.
Reportedly, Uniqarta's Laser-Enabled Advanced Placement (LEAPTM) technology overcame technical difficulties facing conventional pick-and-place methods with a high-precision, ultra-fast laser transfer die placement system. This non-contact approach helps boost the transfer rate as it enables die placement in large batches, thereby accelerating K&S' development of next-gen solutions with high precision and facilitating wide application of multifunctional, low-cost display technologies. Such next-gen transfer method will likely accelerate the adoption of Mini LED backlights while stimulating the development of Micro LED display applications.
Chong confirmed that transfer is still a major challenge facing Mini LED mass production. Nevertheless, K&S, known for its strong expertise and innovativeness, aims to develop a laser transfer solution with a rate of 1,000-10,000 dies/s so that its customers can save the overall cost. Currently, the developed transfer process can reach the said speed in lab and is now being tested in actual production, while product verification is expected to be accomplished within 1 to 2 years.
A Shift towards Service Integration Provider to Coordinate Upstream–Downstream Sectors
In addition to advances in laser transfer, K&S has been striving to turn itself into a total solution provider that aligns the upstream with downstream sectors in hopes of fostering the development of Mini LED and Micro LED industries.
Chong emphasized that K&S is no longer an "equipment-only" provider and has begun partnering with its customers (chip suppliers). In fact, the performance of LED alignment can largely affect the transfer rate. If chips provided by upstream suppliers are aligned undesirably, more time is needed for sorting and defect detection during transfer, hence a lower transfer rate. On the other hand, if the alignment is good right from the beginning, the transfer process can be much faster.
To speed up transfer, cooperating with upstream suppliers becomes vital, said Chong. As the Mini LED and Micro LED industries are still new, K&S has signed several joint development agreements with its customers at the upstream, whereby it can contribute expertise gained through strong technologies and innovations to customers and help them develop products faster and more efficiently.
Indeed, K&S used to focus on equipment supply solely; that is, it supplied whatever customers require. However, after 2 to 3 years of efforts, the company has gained rich experience in the research and development of Mini LED and Micro LED technologies, which it can share with clients. In other words, K&S is not simply an equipment provider that receives orders, sells equipment, installs equipment, and leaves the rest to its customers. The business has become a technical expert with rich experience and the ability to provide one-stop solutions for its clients. Serving as a platform between upstream and downstream suppliers, K&S has gained a unique competitive advantage throughout the market.
"We'll first focus on Mini LED and then Micro LED. After all, there are lots of challenges to be solved for Micro LED, such as the transfer process, chip size, and repair problems. By contrast, Mini LED solutions have entered the product verification stage. After we make major achievements in the Mini LED sector, producing Micro LEDs will be the next goal," Chong mentioned when talking about the company's future plan.
Article written by Dylan Hou