Based in the heart of Silicon Valley, Violumas, the UV division of Flip Chip Opto under Cofan Group, offers full-service UV LED products and solutions. Its patented 3-Pad Flip Chip technology enables the combined use of UV LED technologies and applications with more powerful and reliable solutions. With comprehensive product lineups from chips, UV LED packages, UV LED modules, phototherapy solutions, Violumas is dedicated to full-service UV LED solutions for the UV-A, UV-B and UV-C range (405 to 255nm). Thanks to its customers' support, product advantages and wide industry customized experience, Violumas can satisfy its customers' needs and seek innovative market opportunities in 2023.


TrendForce was very honored to have a phone call interview with Saya Han from Violumas, who shared the company's insights towards the UV LED market as well as its business target of 2023.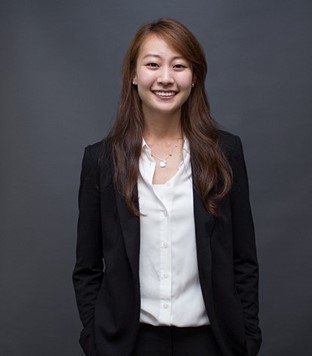 (Saya Han, Violumas)
Regarding deep UV LEDs, Violumas offers comprehensive product portfolios, such as those with wavelengths of 340nm, 325nm, 310nm, 295nm, 280nm, 275nm, 265nm, and 255nm. In addition, Violumas has consistently improved the UV-C LED optical power and reliability. For instance, the company will lunch 265nm/275nm 130-mW UV-C LEDs (single chip) at 700mA and 500mW UV-C LEDs (four chips) at 1.4A in 3Q23. With the 3-Pad Flip Chip technology, the supplier's 265nm 130mW UV-C LED at 700mA boasts an outstandingly expected lifetime, up to 13,000 hours as revealed in an L70 test. Moreover, the UV LED developer plans to release UV-C LED COB products at 800mW (700mA) and 1,300mW (700mA). Furthermore, Violumas has developed 340nm UV-A LED at 113mW (350mA), 325nm UV-A LED at 55mW (350mA) and 295nm UV-B LED at 97mW (700mA). Such comprehensive high-power deep UV LED products with excellent reliability will help the company enter more markets in the near future, such as large-space and facility disinfection, water sterilization, special curing equipment markets.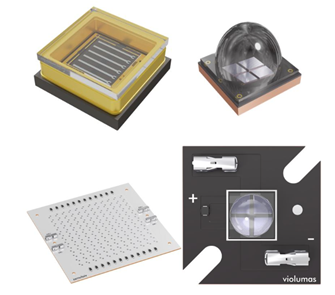 Although the UV LED market faced challenges in 2022, Violumas still takes positive attitude toward 2023-2024 market development. Therefore, Han noted that the upgraded new UV LED products will be released in the market in 2H23, including 340nm UV-A LED for life science and bio technology and 265 / 275 nm single and four-chip UV-C LED for disinfection, sterilization and fiber optical application (curing and spectroscopy)

Regarding the UV LED market outlook in 2023, Han noted that curing, life science, fiber optical curing, sensing and air disinfection markets will consistently grow this year. Particularly, the output power of fiber optical curing is extremely high, therefore, Violumas consistently raise UV LED optical power yearly. In response to sensing market, Violumas also provide multi-wavelength (UV-A to UV-C) for gas monitoring. Violumas is determined to expand its business to various UV LED markets, where it can continue providing customized, superb services for years to come.

Author: Joanne / TrendForce
TrendForce 2022 Deep UV LED Application Market and Branding Strategies
Release: 25 April 2022
Language: Traditional Chinese / English
Format: PDF / EXCEL
Page: 149
If you would like to know more details , please contact: